Buyer of Jeffrey Epstein's NYC Home Gets $30.6 Million Citi Loan
(Bloomberg) -- Michael Daffey, the former Goldman Sachs Group Inc. executive who bought Jeffrey Epstein's Manhattan mansion this year, obtained a $30.6 million loan from Citigroup Inc., the latest example of how the ultra-wealthy are tapping banks for mega-mortgages.
Daffey, the former chairman of Goldman's Global Markets Division, bought the home from Epstein's estate for more than 40% below its original listing price of $88 million, with the proceeds going to a compensation fund for women who accused Epstein of sexual abuse.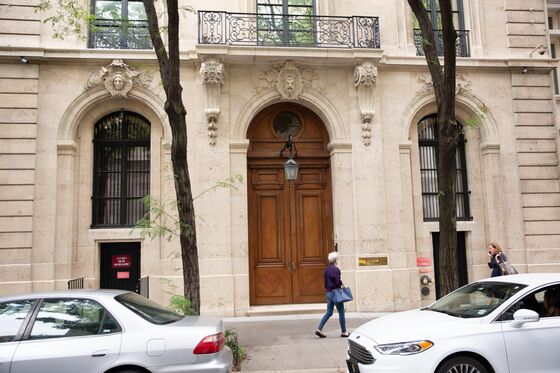 Built in the 1930s, the 50-foot wide limestone mansion on the Upper East Side was listed for sale about a year after Epstein's death in August 2019. In the days following Epstein's arrest, onlookers taking photos and camera crews surrounded the home. Two initials discreetly adorned the entrance: "J.E." Its heavy wood doors bore crowbar marks -- evidence of how authorities forced their way in.

Before Epstein, the home belonged to L Brands founder Les Wexner, Epstein's most important client for years. In 2011, the home's deed was transferred to an Epstein company in the U.S. Virgin Islands.
Prosecutors have said "hundreds if not thousands" of photos of nude and partly clothed girls were found at the property. Epstein was charged with sex trafficking of minors and then found dead in a Manhattan jail cell in what authorities ruled a suicide.
Daffey's representative previously said the former trader had never met Epstein or been inside the mansion before acquiring it.
Daffey was elevated to chairman of Goldman's Global Markets Division before leaving the New York-based firm earlier this year. He's scheduled to start at Galaxy Digital, the digital-asset company started by former Goldman partner Michael Novogratz, in September.
The transaction offers a glimpse at how the rich leverage assets for liquidity, with bankers keen to offer super-sized mortgages to their most valuable clients as interest rates remain near record lows.
In March, Constellation Brands Inc. Chairman Rob Sands and his wife arranged a $23.1 million loan for a Manhattan penthouse from Citigroup. A month earlier, hedge fund manager Israel Englander secured a $25.6 million mortgage from Morgan Stanley for an Upper East Side townhouse. The loans for the two billionaires have interest rates of 2.125% and 2.15%, respectively.