Ex-Credit Suisse Banker Faces Another Probe After Court Ruling
(Bloomberg) -- The Swiss Supreme Court ordered Geneva prosecutors to reopen part of their probe into former Credit Suisse Group AG banker Patrice Lescaudron, saying that the claims of a Russian businesswoman who said she lost millions due to his fraud hadn't been properly examined.
The ruling last month opens up a fresh angle in the high-profile case that culminated last year with Lescaudron being sentenced to prison for faking trades to cover up mounting client losses. Geneva prosecutors must go back and look at the timing of when the former wealth manager falsified documents.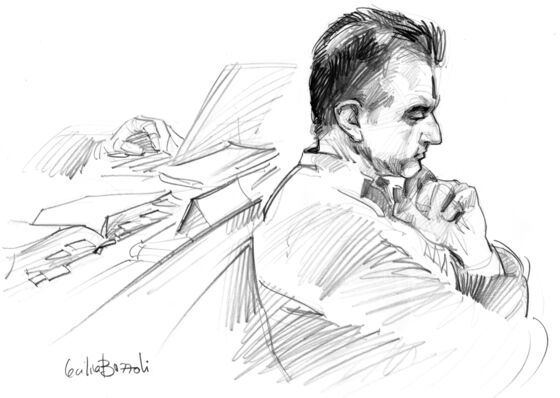 The new probe is the second in recent weeks related to the Lescaudron case that prosecutors have had to undertake despite the former banker's conviction a year ago. Last month, they began looking at forgery allegations made by another Russian client who had unearthed falsified bank statements that weren't covered in the original 2017 indictment.
Marc Hassberger, the lawyer for the Russian businesswoman who claims to have lost about $50 million, said "this decision is far from a mere technical ruling but rather confirms that there are serious merits to my client's claims and that, finally, a detailed investigation into all of Lescaudron's nefarious activities at the heart of Credit Suisse must take place."
His client, Olga Korbatova, said last month during an appeals court hearing that she never would have kept her investments at the bank if she'd known about Lescaudron's bad trades.
"I would have immediately cut my ties with the bank and wouldn't have lost this $50 million," she testified last month.
The case revives awkward questions for Credit Suisse about how one of their top wealth managers was able to skirt detection for nearly a decade as he tried to buy time to recoup his losses. The Zurich-based bank has consistently said Lescaudron acted as a lone wolf, who hid his deception from his colleagues and bosses. A spokeswoman declined to comment on the Supreme Court ruling.
The former star wealth manager, who by 2008 was managing at least $1.6 billion in assets from clients across Eastern Europe, was released from prison at the end of November after an appeal for leniency. Lescaudron had lost 44 pounds in prison in just two months and was hospitalized at the instruction of his psychiatrist.
Lescaudron's lawyer, Simon Ntah, said the Supreme Court ruling was procedural and focused on prosecutors' failure to give a formal decision and explanation for dropping the Russian's allegations in his indictment.
"This decision has little impact for my client other than to extend proceedings that have already gone on too long," Ntah said.