Ex-Congressman Collins Gets 26 Months for Insider Trading
(Bloomberg) -- Former New York Republican Congressman Chris Collins was sentenced to 26 months in prison for passing confidential information about a failed drug trial to his son, who sold shares based on the tip.
The sentence caps a bizarre political downfall for the first congressman to endorse Donald Trump for president. Collins went on to become the first sitting member of the U.S. House of Representatives to be charged with insider trading based on a call he made from the South Lawn of the White House.
U.S. District Judge Vernon Broderick in Manhattan on Friday handed down the sentence to the 69-year-old former congressman, who resigned from office and pleaded guilty in October to conspiracy to commit securities fraud and lying to federal investigators. Prosecutors had asked to order him to spend 46 to 57 months, while Collins had urged the judge to impose a sentence of probation, citing his age, charitable works and remorse.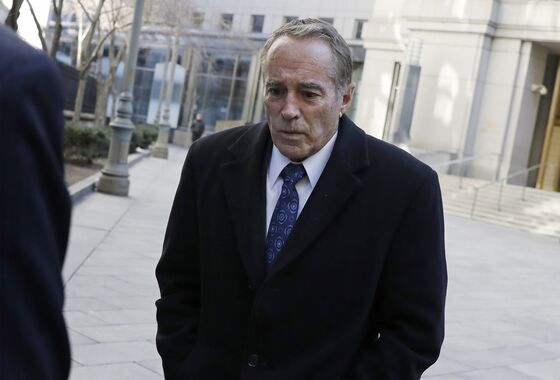 The crime goes to the heart of the U.S. financial system, Broderick said in imposing sentence. Collins owed a duty to the nation and betrayed that, the judge said, noting that insider trading creates the impression to ordinary investors that the markets are rigged. Lying to the FBI made the offense worse, the judge said, saying a prison sentence was necessary to prevent others from engaging in the same activity.
"This is not your obituary," Broderick said. "You have your future ahead of you. You have to make some good out of this bad situation."
The sentencing is a "sad, tragic day" for the former congressman and his family, Collins's lawyer Jonathan Barr told the judge before the punishment was handed down.
"He stands before you humbled, penitent and remorseful," Barr said. "He has paid a very heavy and public price for his criminal conduct."
Collins got emotional and wept as he addressed the judge, apologizing to his friends, family and former constituents. His voice shook and his words were sometimes unintelligible.
"I violated my core values and there is no excuse, none whatsoever," Collins said, noting that he had moved to Florida to avoid facing the people of his former district. "I cannot face my constituents. What I've done has marked me for life. People feel sorry for me. They shouldn't."
Collins declined to speak to reporters as he left the courthouse and got into a waiting car. He is scheduled to surrender to prison on March 17 -- the same day that former U.S. Representative Duncan Hunter is scheduled to be sentenced for illegally using campaign funds for personal expenses.
According to the government, Collins, who served on the board of Australian biotechnology company Innate Immunotherapeutics, called his son Cameron in June 2017 from the annual Congressional picnic at the White House, after he got an email from Innate's chief executive officer about the clinical trial failure of a multiple scleroris drug then under development.
Cameron Collins, his fiancee, her parents, and a friend subsequently sold more than 1.78 million shares before the news became public, avoiding losses of almost $757,000.
The case shed a spotlight on the lack of restrictions on members of Congress holding unpaid positions on corporate boards. Collins solicited investments in Innate from fellow lawmakers, and at least five other Republican House members bought shares in the company.
Shortly after Collins's indictment, the House introduced a bill barring members from serving on the boards of publicly traded companies. That bill hasn't passed into law yet.
Elected in 2012 in a solidly Republican district encompassing much of the suburbs of Buffalo and Rochester, Collins became the first member of Congress to endorse Trump in February 2016, a time when most other Republicans were still wary of the brash real estate developer.
His indictment just a few months before the 2018 midterm elections affected Collins' standing with voters, even in the conservative district. Though he proclaimed his innocence and tried to cast reports on the case as "fake news," Collins only narrowly won reelection against Democrat Nate McMurray.
Dozens of his constituents wrote to Broderick, with the vast majority urging him to impose a harsh sentence.
Cameron Collins, who pleaded guilty to similar charges two days after his father, is scheduled to be sentenced Jan. 23.
The case is U.S. v. Collins, 18-cr-567, U.S. District Court, Southern District of New York (Manhattan).