Ex-Barclays CEO Varley Worried That Dalai Lama Would Ruin Deal
(Bloomberg) -- Former Barclays Plc head John Varley was worried the Dalai Lama would ruin his search for outside investors to prevent the bank from being forced to take a U.K. government bailout during the 2008 credit crunch.
The chief executive officer, on trial on fraud charges with three former co-workers in London, was overseeing efforts to reach out to global funds to put money into his bank. He expressed concerns that then U.K. Prime Minister Gordon Brown's meeting with the Dalai Lama would lead to difficulties with the Chinese and the country's development bank, the CDB.
"I can't gauge whether the Chinese (not so much CDB as their political bosses) will take the opportunity of playing hardball too because of their anger at the Brown-Dalai Lama meeting," Varley wrote to then-Chairman Marcus Agius two days after Brown's meeting with the exiled Tibetan leader.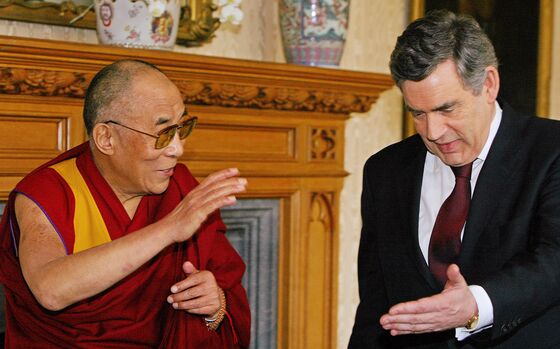 Varley and his ex-colleagues are accused of allegedly agreeing to pay Qatari companies 322 million pounds ($420 million) in secret fees. Prosecutors allege that the men used two "sham" advisory services agreements, known as ASAs, to induce the Qataris to invest 4 billion pounds in Barclays during the 2008 financial crisis and thus help it avoid a U.K. government bailout.
A prosecutor for the Serious Fraud Office, Ed Brown, presented a series of emails and recordings of phone calls to the jury Friday that detailed internal deliberations in May and June 2008. The executives described their counterparts playing "hardball" in negotiations over particulars of the deal.
One of Varley's executives searching for funds said he didn't want to appear too anxious about securing money from potential Qatari investors, according to an email presented at trial Friday.
"Talking to Hussain today I have left time vague as not desperate!!!!," Roger Jenkins, the bank's former Middle East head wrote in an email in May of 2008.
Varley, Jenkins and the other defendants have pleaded not guilty. Agius hasn't been accused of wrongdoing.
Varley and Jenkins are charged with two fraud counts, relating to ASAs signed in June and October 2008. The other two defendants -- ex-wealth and investment head Tom Kalaris, and Richard Boath, who was then the European head of the financial institutions group -- are only charged in connection with the first deal.