Evercore Sees Conditions Ripe for U.S. Stock Valuations to Rise
(Bloomberg) -- The relationship between consumer confidence and earnings multiples has reached an unusual point that may bode well for an increase in equity valuations, Evercore ISI's Dennis Debusschere wrote in a note.
"The spread between confidence readings and multiples has increased to an extreme level, reaching its 99th percentile," Debusschere wrote Wednesday. "Historically, when confidence is unusually disconnected from PEs, multiples have climbed 0.4 points over the next three months." He added, "using $170 forward EPS that translates into 65 S&P points."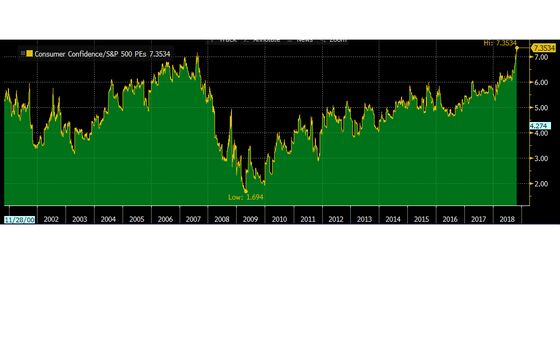 The S&P 500 Index's next-12-months price/earnings ratio has fallen to 15.4 times, compared with its long-term median of 15 times, Debusschere noted. According to a chart in his note, 15 times would put the S&P 500 around 2,618 -- and the January peak of 18.4 times would have it at 3,200, compared with Tuesday's close of 2,682.63.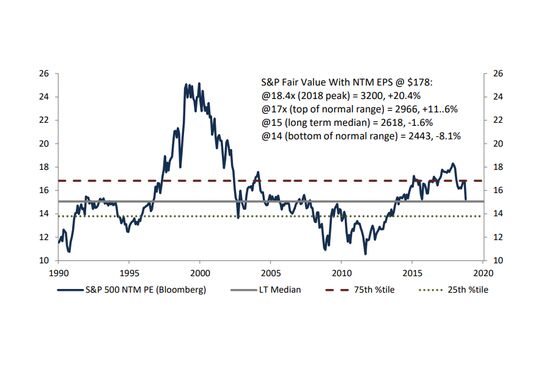 "Stable growth, low recession risk, supportive financial conditions, and earnings, even under reduced estimates, expected to grow in the high single digits, suggest multiples will remain above the bottom end of their normal P/E range (14x)," Debusschere wrote. "As monetary policy tightens and volatility returns to a more normal level, multiples are unlikely to move back to 17x, but a move below 15x is unlikely assuming recession risk remains low."