Europeans See Glimmer of Hope in Italy's Virus Stabilization
(Bloomberg) -- There are signs that the worst may soon be over at the epicenter of Europe's coronavirus crisis.
The death rate is easing in Italy as growth in new cases moderates. While daily fatalities are still rising in Spain and Britain, the virus appears to be spreading more slowly in Germany, the Netherlands, Switzerland and other countries. Pressure on hospital intensive-care units is letting up in some of the hardest-hit areas, including the Milan region.
Italy's progress in battling a disease that has killed more than 13,000 people there suggests that the unprecedented lockdown that has kept most of Europe indoors for the past few weeks is working. That said, health officials warned that restrictions must remain in place for a long time to come and government officials will need to resist pressure to reopen their economies too soon.
"We cannot plan for an easing of the lockdown yet," Prime Minister Giuseppe Conte said late Wednesday in announcing a two-week extension of the measures.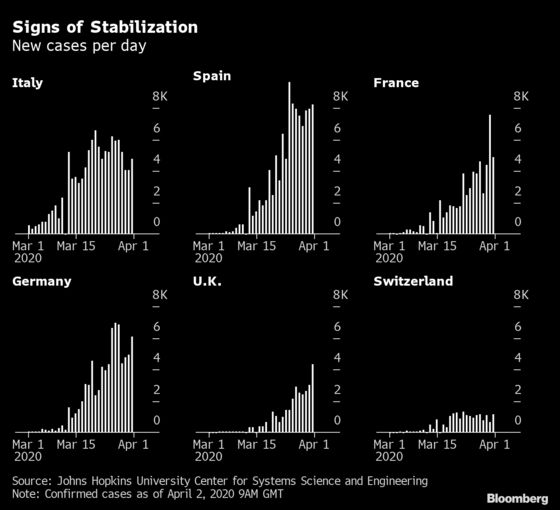 World Health Organization officials say any eventual easing should occur slowly and cautiously, with countries continuing to hunt new cases actively. If they move too soon, there's a risk of a second wave of the pandemic, which could be fueled by mild or asymptomatic cases that have escaped detection.
Symptoms can take two weeks to appear, so lockdowns and other measures need to respect the virus's pace. Cases could linger in hospitals, making them a venue for transmission even as the outbreak recedes in communities, said Simon Mardel, a British doctor who was involved in the global fight against Ebola and other epidemics.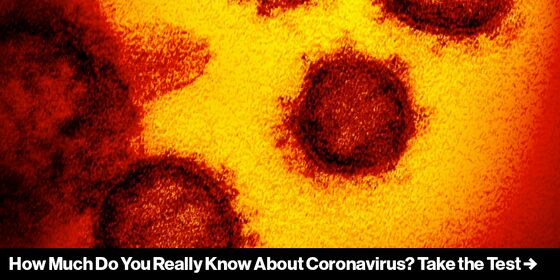 "If this virus transmits so easily in the community we must respect the ease with which it will spread in health care," he said.
So far, countries have heeded the advice to ease up slowly, after criticism that some dragged their feet when the outbreak began. As some extend their lockdown periods, U.K. officials have warned that restrictions could be in place for months.
Mobile apps that track people exposed to the virus and their contacts could help health agencies keep tabs on the illness, but they haven't been implemented yet. The U.K. and other countries have also struggled to ramp up testing for the pathogen, which they'd need to do more widely to guard against a recurrence.
The U.K.'s lockdown may have reduced the spread of the coronavirus, according to a study of residents' contact with others by researchers from the London School of Hygiene and Tropical Medicine. The survey showed that people's human interactions on a single day have fallen 70%, suggesting that those with the virus are infecting an average of 0.6 others, compared with 2.6 average transmissions before the measures were imposed.
In Austria, one of the first European countries that clamped down on public life, the number of deaths has fallen for the fourth day, to 12, in the last 24 hours, Health Minister Rudolf Anschober said. That brings the total number of fatalities to 158. The Alpine country had 10,769 positive cases Thursday morning; the daily increase has been less than 10% for five days.
"It is encouraging to see the slowdown of the spread in some areas, thanks to strong measures, especially physical distancing," said Pinar Keskinocak, a professor at Georgia Institute of Technology who specializes in infectious disease modeling. But countries should "be cautious about relaxing interventions in any area until rapid widespread testing is available, we have a better understanding of who is infected, and who has been infected and recovered."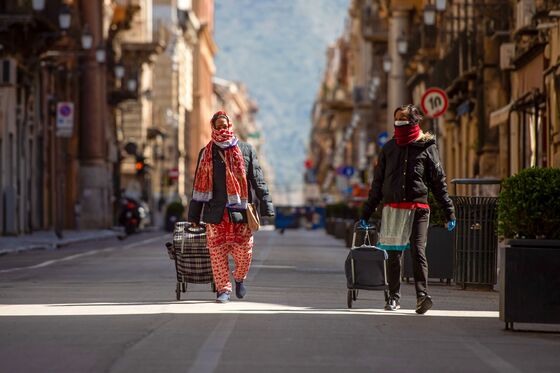 After such a pressured period on public services, countries must also consider the fatigue on health-care systems and people overcompensating for a prolonged period of isolation.
"I would expect there will be a certain rebound where people after some time would have been so starved for social contact that they jump on the opportunity," said Simone Schnall, a psychology researcher at the University of Cambridge, England. "I certainly do see that danger that once you relax things" the risk of a resurgence in transmission increases.
With inconsistent testing and a delay in death rates, the numbers don't always give a complete picture or a clear trend. Spain, for example, suffered its deadliest day of the pandemic Thursday, with the government reporting an increase in both the number of new cases and fatalities, which reached a new peak of 950 in 24 hours. Still, the health minister said that the curve is stabilizing as the daily percentage increase was lower than a week ago.
Italy's deaths fell to 727 on Wednesday, the lowest in six days, and the number of new cases is below highs in mid-March.
The U.K. announced another jump in deaths, with 563 in the past 24 hours. But the spread of the virus is slowing based on hospital admissions, Neil Ferguson, a U.K. government epidemiological adviser, said in a radio interview earlier this week. Government officials have predicted that the country's outbreak may peak in two to four weeks.
Health-care workers have bemoaned the lack of protective gear being provided in recent weeks, and a pipeline of equipment will be vital when politicians ease measures, as well as a fit workforce. Officials in the U.K. said the availability problem was an issue of distribution rather than supply.
All this must be weighed against the economic impact, according to Richard Cookson, a professor in health economics at the University of York. People losing their livelihoods also affects health.
"Every day or month that the economy is in a coma, that also has health implications," Cookson said. It's "a complicated balance. It's not as simple as money versus lives."