European Telcos Are Paying the Most on Planet for 5G. Here's Why
(Bloomberg) -- Phone companies in Europe knew they'd have to shell out for airwaves to enable the next generation of mobile services. The bill is looking bigger than they'd bargained for.
Italy's ongoing auction for 5G frequency this month has blown through a world record for a key frequency band, reaping 5.8 billion euros ($6.8 billion) and counting. That's more than double the country's target and compares with 23 billion euros that the industry's main body, the GSMA, expects carriers will spend on wireless in Europe this year, excluding spectrum.
A recent U.K. auction also overshot on costs, suggesting companies including Vodafone Group Plc., Deutsche Telekom AG and Telefonica SA will need to dig deep for upcoming frequency sales in the region. It's another warning sign to investors, given that the telecoms companies see little growth in mobile revenues in most European countries over the next seven years.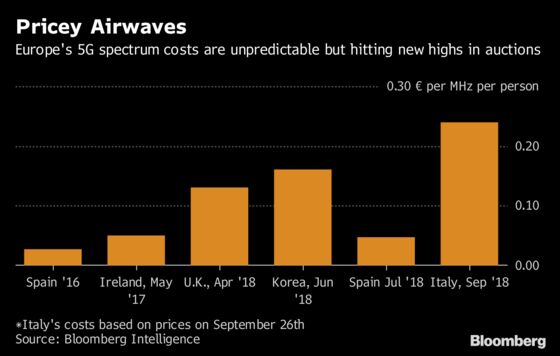 The region's carriers have little choice but to buy into 5G. The wireless technology promises to be lightning-fast -- enough to download a full-length feature film in seconds -- and enable entirely new products and services, from driverless cars and remote surgery to 3D hologram calls. Those services -- and others yet to be thought up -- could help telecom companies create new revenue streams to offset a collapse in prices of mobile data.
While some telecom executives have questioned the business case for 5G, data traffic is growing at about 40 percent a year, putting current 4G networks at risk of overload. 5G offers data capacity around seven times greater than 4G. Without 5G, companies need to add "massive" numbers of masts and antennas in urban areas to cope with the ballooning data consumption, according to a report this month from the Boston Consulting Group.
Despite the exorbitant cost of securing the airwaves in some countries, 5G systems can push cost per gigabyte down by more than 90 percent over time, helping carriers keep their network expenses at sustainable levels, according to BCG.
"The driving force is that it will be the cheapest way of expanding capacity," said Bengt Nordstrom, a telecom consultant at Northstream AB in Stockholm. "If you don't understand that this technology makes expansion cheaper, you're in trouble."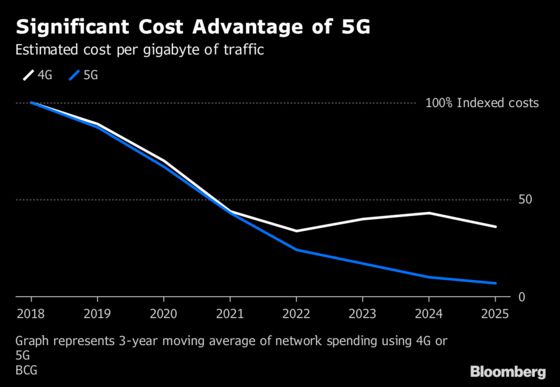 5G auctions across the region represent a challenge for Europe's mobile phone carriers, although not all are structured like the Italian one, where an uneven distribution of the spectrum has intensified the bidding war, according to Bloomberg Intelligence.
Still, smaller carriers could see their business models come under strain if larger players squeeze them out of important spectrum, according to New Street Research analyst Andrew Entwistle.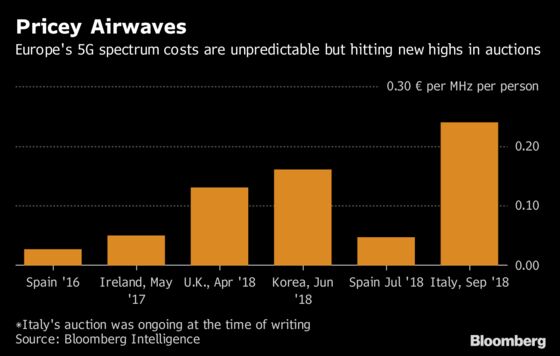 Europe is already behind: In the U.S., AT&T Inc. and T-Mobile US Inc. will start 5G services in dozens of cities this year, and China, another early mover that's investing aggressively, is forecast to be the world's biggest 5G market by 2025, according to the GSMA.
Chancellor Angela Merkel wants Germany to be a leader in the new technology as the country's industry digitizes, yet other nations -- including the U.K., Italy and Finland -- are further ahead when it comes to allocating frequencies. BT Group Plc's EE seeks to start commercial 5G services somewhere near the end of next year, and Telia AB plans to start in Helsinki in the beginning of 2019. Germany's carriers aren't expected to introduce widespread 5G services until 2020.