European Investors Now Have Biggest Exposure to Banks on Record
After more than a decade of underperformance, European bank stocks look newly alluring for the region's investors against a backdrop of rising bond yields.
A net 46% of respondents in Bank of America Corp.'s latest regional European fund manager survey are saying they're overweight banks, the highest level on record since the U.S. broker started its survey in 2003.
With inflation expectations spiking and bond yields rising, 73% of survey participants said they see the sector as attractive, according to BofA's note. That's up from 53% in September.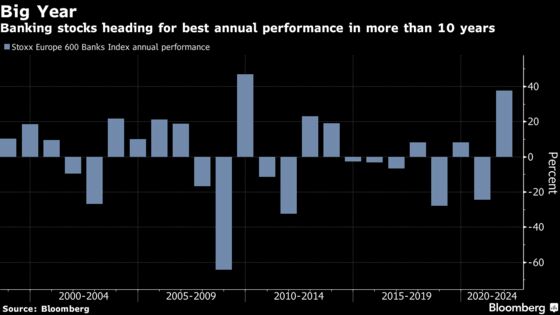 The Stoxx 600 Banks Index is up 38% in 2021, by far the strongest performance among 20 European equity subgroups, as the gauge heads for its biggest annual gain since 2009. 
Yet the sector still looks cheap on paper, with both price-to-earnings and price-to-book ratios significantly below the average seen since 2010.
Only 12% of participants had a negative view of European lenders in the Bank of America survey that took place from Oct. 8 to Oct. 14.