European Bonds Slide as U.S. Economy Blunts Italy Deficit Fears
(Bloomberg) -- European bonds slid after Treasuries dropped as investors priced in a faster pace of U.S. interest-rate hikes.
German bunds led declines in the euro area, with 10-year yields rising to a one-week high, while those on U.K. gilts approached the highest level in more than two-and-a-half years. Treasury yields climbed to the highest since 2011 after U.S. economic data Wednesday bolstered the case for the Federal Reserve to keep raising rates into 2019.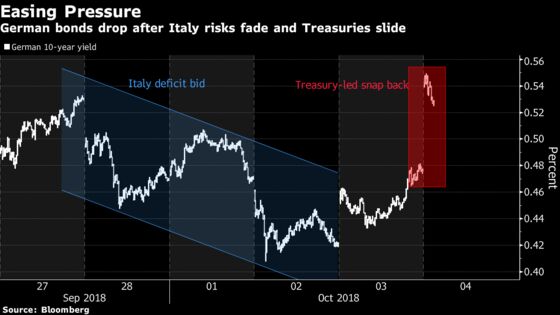 The sell-off, following better-than-expected U.S. manufacturing, services and jobs data, ended a flight to safety seen in European debt this week on fears of a blow-out in Italian finances. Fed Chair Jerome Powell lauded the U.S. economy's performance and said interest rates may go past a long-term neutral level. There was also some relief on Italy as Prime Minister Giuseppe Conte said the country would trim its budget deficit plans.
"It looks like the perfect storm for bunds," said Christoph Rieger, head of fixed-rate strategy at Commerzbank AG. "The sell-off in Treasuries is leading the way after Powell added to the pressure, while sentiment is stabilizing in Italy."
German 10-year bund yields climbed six basis points to 0.53 percent as of 12:20 p.m. in London, after touching 0.55 percent, the highest since Sept. 25. Those on U.K. gilts rose eight basis points to 1.66 percent, shy of 1.69 percent reached in February. Italian bonds opened stronger before erasing gains, with 10-year yields four basis points higher at 3.35 percent.
Investors are still waiting for Rome's populist government to flesh out its fiscal plans. Italy's Deputy Finance Minister Massimo Garavaglia said the target for next year's economic growth was 1.6 percent, a figure described as "just propaganda" by Antonio Tajani, the president of the European Parliament.
The yield on German 10-year bunds could rise to as much as 0.65 percent, but moves will be driven largely by Treasuries rather than domestic forces, according to Standard Chartered Plc. The European Central Bank has said it will keep record-low interest rates until at least through the summer of next year.
Adding to the selling pressure in Europe was a wave of bond supply. Spain auctioned five billion euros ($5.8 billion) of securities, while France sold around nine billion euros of debt.
More favorable Brexit dynamics helped contribute to the underperformance in gilts, widely seen as one of the safest assets to own, according to Societe Generale SA. Prime Minister Theresa May survived her Conservative Party's annual conference with no meaningful challenges to her authority, while Ireland boosted her emerging backstop plans for an all-U.K. customs union, according to the Financial Times.
The "Brexit developments have been fairly negative for bonds," said Jason Simpson, strategist at SocGen. "These suggest a higher probability of a deal and lower risks that it gets voted down."