European ESG Funds Pulled in Record $132 Billion in 2019
European funds devoted to sustainable investing pulled in a record 120 billion euros ($132 billion) from clients last year, as the demand for green and ethical options surged.
Assets managed by funds in Europe that incorporate environmental, social and governance criteria into their strategies swelled by 56% in 2019 to 668 billion euros, according to research firm Morningstar Inc. More than 50 of the 360 funds started last year had a climate-oriented mandate, the firm said in a report on Thursday.
Investment firms around the world, including giants such as BlackRock Inc. and Amundi SA, are responding to the fast-growing demand for ESG funds. BlackRock Chief Executive Officer Larry Fink set the tone earlier this month when he pledged to incorporate environmental concerns into the firm's investment process for both active and passive products.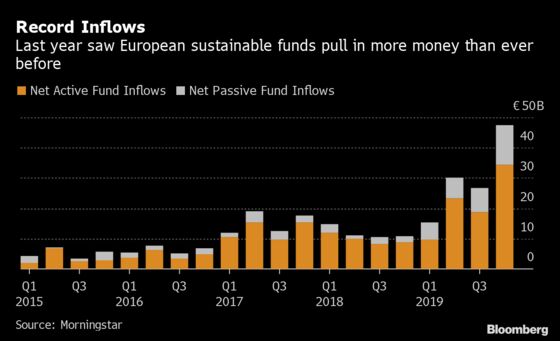 A 76% quarter-on-quarter surge in the final three months of the year was fueled mostly by active managers. These investors avoid the sectors that breach sustainability criteria but feature in popular indexes like the FTSE 100.
The number of sustainable investment funds based in Europe rose to 2,405 last year, with 105 new offerings launched in the fourth quarter, Morningstar said.