European CLOs Rush to Refinance as Market Makes Up for Lost Time
(Bloomberg) -- Tumbling debt spreads are spurring a rush to refinance collateralized loan obligations as managers seize an opportunity to eke out better terms on older deals.
As many as 12 transactions worth 4.3 billion euros ($5.2 billion) have already priced this year in what may herald the start of months of intense activity.
Managers have issued at least 40 cleansing notices -- a piece of legal red tape to kickstart refinancing processes. Alcentra and PGIM Ltd are among those working on multiple deals.
The flurry comes as CLO debt spreads drop to close to 80 basis points from as high as about 200 points in April last year. The decline opens the door for managers to make up for time lost during the pandemic by re-tooling deals to extend their life or tweaking terms to make them more flexible.
"Triple-As moving to the low 80 basis point level puts the whole market on a refinanceable footing," said Alexander Ohl, Head of Credit Solutions at Union Investment in Frankfurt. "The sheer amount of refis and resets will keep the market so busy."
To be sure, the amount of activity so far this year is a fraction of the 26 billion euros of refis and resets that printed in the whole of 2017.
Even so, with managers keen to rework deals that have priced since 2017, including the post-Covid deals that exit short non-call periods from May, the surge in activity may have further to run.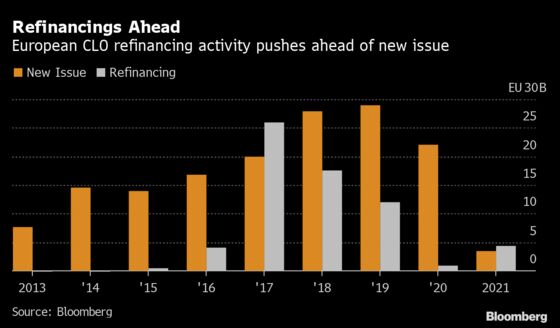 Read More: Refis Dominate European CLOs as Spreads Tumble: January Wrap
The increased supply of refis and resets may create a resistance level for spreads to tighten further, especially on the top of the debt stack, Bank of America Global Research analysts wrote in a report published Feb. 15.
Aside from reducing funding costs, managers also want to update transaction tests and incorporate new provisions, such as terms to help managers secure better recoveries on stressed assets
"Managers don't want to lose their equity investors and while refis are good for equity as they reduce funding costs, resets are even more important from a structural aspect," said Ohl. "Having gone through the wave of loan downgrades in 2020, managers need to sort out the transaction tests, including WAL and WARF, to ensure the deals perform."
Most deals from the 2017 vintage, and all that priced from 2018 onward have yet to be reworked

A combined total of EU48b priced in 2017-2018

Another EU30b of deals that priced in 2019 will move out of non-call periods this year
EU13b+ of post-Covid transactions, with higher funding costs, will exit their short 1Y non-call periods from May
Reset triple-As tightened to a wide 83-90bps range in February from 95bps in January
Refi triple-As are pricing in the mid-60bps area
The 12 refinancings that already priced this year are from 2016-2018
Manager
Transaction
Refi/Reset Priced
First Issued
Prev. Refi
Prev. Reset
PRICED
Blackstone
Clarinda Park CLO
RESET
2016
2019
BlueMountain
BlueMountain Fuji EUR CLO II
PARTIAL REFI
2017
Carlyle
Carlyle Euro CLO 2017-2
REFI
2017
CVC CP
CVC Cordatus Loan Funding IV
RESET
2016
2018
Five Arrows
Contego CLO IV
PARTIAL REFI
2018
2018
HPS
Aqueduct European CLO 1-2017
PARTIAL REFI
2017
Invesco
Invesco Euro CLO I
PARTIAL REFI
2018
Investcorp CM
Harvest CLO XVI
PARTIAL REFI
2016
2018
GLG
Man GLG Euro CLO III
PARTIAL REFI
2017
Partners
Penta 2018-5X
RESET
2016
2019
PGIM
Dryden 44 Euro CLO 2015
RESET
2016
2018
PineBridge
Euro-Galaxy 2016-5X
RESET
2016
2019
CLEANSING NOTICES
Alcentra
Jubilee CLO 2018-XXI
2018
Alcentra
Jubilee CLO 2013-

X

2013
2017
Alcentra
Jubilee CLO 2014-XI
2014
2017
Alcentra
Jubilee CLO 2014-XII
2014
2016
2019
Alcentra
Jubilee CLO 2016-XVII
2016
2018
AXA IM
Adagio V
2016
2018
Anchorage
Anchorage Capital Europe CLO 2
2018
Brigade
Armada CLO I
2017
Brigade
Armada CLO III
2018
Ares
Ares European CLO VI
2013
2017
KKR Credit
Avoca CLO

X

2013
2016
KKR Credit
Avoca CLO XII
2014
2017
KKR Credit
Avoca CLO XIII
2014
2017
BlackRock
BlackRock European CLO II
2016
BlackRock
BlackRock European CLO VII
2018
Blackstone
Crosthwaite Park
2019
Blackstone
Elm Park CLO
2016
2018
Blackstone
Dartry Park CLO
2015
2017
Cairn
Cairn CLO IV
2014
2017
2019
Carlyle
CGMSE CLO 2016-2
RESET
2016
2019
Carlyle
Carlyle Euro CLO 2019-1
2019
CVC CP
CVC Cordatus Loan Funding VII
2016
2018
Five Arrows
Contego CLO VI
2018
GoldenTree
Laurelin 2016-1
2016
2018
Hayfin
Hayfin Emerald CLO I
2018
ICG
St Paul's CLO VI
2016
2018
Investcorp CM
Harvest CLO VII
2013
2017
Investcorp CM
Harvest CLO XXI
2019
Investcorp CM
Harvest CLO

XX

2018
GLG
Man GLG Euro CLO V
2018
PGIM
Dryden 46 Euro CLO 2016
2016
2019
PGIM
Dryden 27-R Euro CLO 2017
2013
2016
2017
PGIM
Dryden 52 Euro CLO 2017
2017
PineBridge
Euro-Galaxy III CLO
2013
2019
2016
Sculptor
Sculptor European CLO I
2016
2019
Sculptor
OZMLE II
2017