European Bond Market Starts to Feel Pain in Lagarde's Absence
(Bloomberg) -- Cracks are emerging in Europe's bond markets and without intervention from Christine Lagarde, they could widen even more.
Yield premiums from Italy to France are climbing over those of Germany, a sign that without more stimulus from the European Central Bank to combat the economic fallout from the coronavirus, a crisis could be beckoning. The institution is set to meet next week amid speculation that if it isn't out of ammunition, it's running close.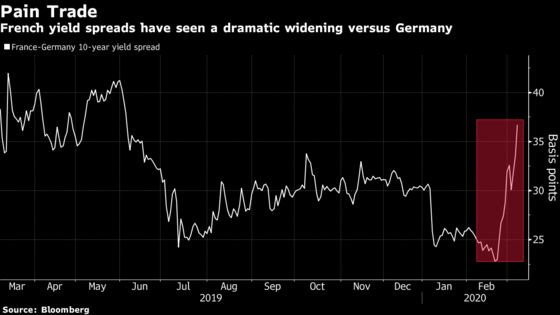 "If they wait until next Thursday, markets will get nervous due to the impression that Lagarde cannot forge a consensus or the ECB is at its limit," said Christoph Rieger, head of fixed-rate strategy at Commerzbank AG. "With every day -- or perhaps even hour -- that passes with the ECB staying silent, markets will speculate for more," adding that spreads will widen until a decision is reached.
German 10-year and 30-year bond yields plunged to record lows Friday, having fallen for four consecutive weeks. But other European securities are reluctant to follow suit. French 10-year yield spreads over Germany widened to the most since June, while for Irish bonds they touched the highest level since October. Italy's premium was at the highest since August.
The ECB decision is due Thursday, while investors will also be looking toward the U.K. budget Wednesday for evidence for fiscal stimulus. Further support for gilts will come from the Bank of England's buyback program that gets underway next week.
Bond sales are set to total around 19 billion euros ($21.5 billion), including from Germany and the Netherlands, according to Commerzbank. The European Financial Stability Facility is also scheduled for an issue.
Money markets are pricing in a 90% chance of the ECB cutting interest rates to -0.6% Thursday, while they could also choose to boost asset purchases or announce new loans
Germany releases industrial production data for January on Monday, while GDP data for the euro area's fourth quarter is scheduled for Tuesday

Euro-area industrial production figures for January due Thursday

Swathe of final February inflation data readings for the region published Friday, including for France and Germany
In the U.K., industrial production figures and manufacturing numbers due Wednesday
Other bond sales set to come from Portugal, Italy, Ireland and the U.K.