Europe's Virus Response Has Put the Euro in a Win-Win Situation
(Bloomberg) -- Regardless of what the spread of the coronavirus does to demand for risk, market indicators suggest the euro will rise.
The common currency is inching toward a close above its 200-week average for the first time in a year. A convincing break would be the latest in a string of signals from traders that the momentum behind the euro's third monthly advance -- for the first time in more than two years -- is growing.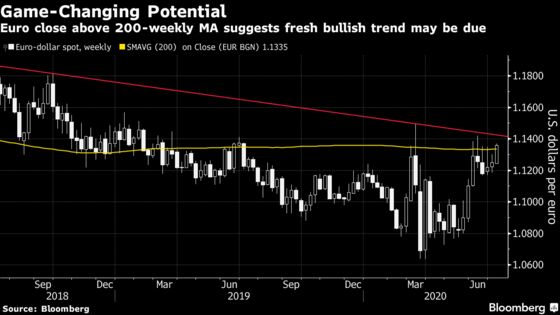 What's driving the rally is optimism over the European Union's handling of the virus, including talks of a joint recovery fund, and governments' relatively swift implementations of lockdowns. That stands in contrast to the pandemic response from across the Atlantic.
The euro area's recession as a result of those lockdowns probably won't be as deep as previously feared, according to some European policy makers. Meanwhile, with the virus spreading across the U.S., which took time to implement lockdowns, Federal Reserve Bank of Atlanta President Raphael Bostic suggested that economic activity in parts of the country is showing signs of leveling off.
This divergence in views from policy makers in the U.S. and EU, together with central banks worldwide backstopping financial markets with unprecedented stimulus, has weighed on Bloomberg's dollar index.
The gauge has fallen three straight months, the longest such run in more than a year. It measures the greenback against a basket of currencies, of which the euro accounts for about a third.
Betting that the euro will gain over the next six months against the dollar now comes at a premium, as shown by so-called risk reversal options. While these signaled bearish sentiment on the common currency in recent months, this week they turned the most positive since March.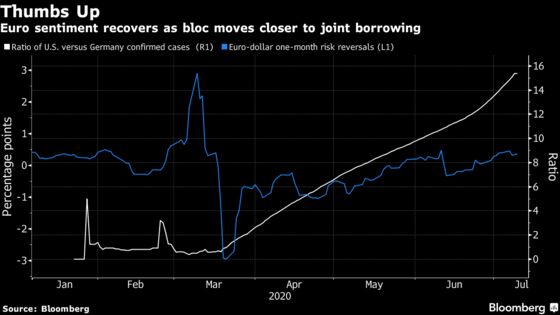 A close above its 200-weekly moving average would be the euro's first in a year. Should it surpass a key resistance level at the June 10 high of $1.1422, it will be trading at the highest in four months.
Propelling the euro forward is the strongest bullish sentiment since 2018, with bulls taking over the price action for six straight weeks, the longest streak this year, according to Bloomberg's Fear/Greed indicator.
Bloomberg's option probability calculator shows the common currency is 50% more likely to trade above $1.15 in a week's time than to drop below $1.12.
Read more...
Euro Rally May Speed Up as Golden Cross Approaches: Chart
Dollar Is Close to Sending a Signal to Bears to Carry on Selling
NOTE: Vassilis Karamanis is an FX and rates strategist who writes for Bloomberg. The observations he makes are his own and are not intended as investment advice