Europe's Trillion-Euro Bond Binge Begins With Near Record Demand
(Bloomberg) -- The euro area's first bond sales of the year showed there is no letup in investor appetite for the region's government debt.
Italy received more than 105 billion euros ($129 billion) of bids for a 10-billion-euro 2037 benchmark offering on Tuesday -- just shy of record demand set last year. Ireland saw more than 40 billion euros of interest for 5.5 billion euros of its 10-year syndicated debt, according to people familiar with the matter who asked not to be named.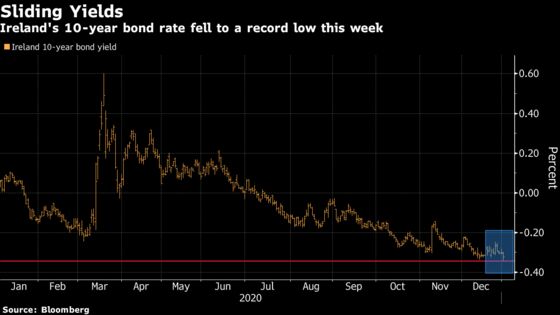 Euro-area governments will raise over 1 trillion euros of debt this year, according to ING Groep NV, as they battle the economic fallout of the pandemic. Thanks to the European Central Bank's bond-buying program, demand will more than offset the extra supply and continue to support a blistering rally that has pushed borrowing costs to all-time lows.
While the heavy bidding for both nations' debt fell short of records last year, the demand for Italy was just three billion below, making it among the biggest ever seen globally. It priced at eight basis points above existing bonds.
"People want Italian bonds," said Imogen Bachra, European rates strategist at NatWest Markets. "There will be lots of supply for the market to take down in the next few weeks."
Ireland's sale, priced at two basis points below midswaps, was beneath initially more generous guidance of one basis point above. The timing of the sale is fortuitous for the Irish government, with 10-year yields touching a record low of minus 0.34% Monday.
Equivalent Italian securities fell to an unprecedented 0.51% in December. Bonds have been supported so far this year by concerns that the latest wave of the coronavirus will hamper the economic recovery before vaccines are rolled out to a significant proportion of the population.
While the last-minute trade accord between the U.K. and the European Union has removed the risk for the region of a disorderly Brexit, Italy is facing renewed political uncertainty. Still, BNP Paribas expects only short-term price pressures, while Danske Bank A/S highlighted the sizeable European Union funding that should help to support its bonds.
"The Italian ministry of finance also have a massive cash account and with the SURE and EU next generation funds," said Jens Peter Sorensen, chief analyst at Danske, who is recommending investors buy Italian bonds versus their Spanish counterparts. "They have plenty of cash even if Italian politics go 'crazy'."
Slovenia, once again the first eastern European nation to hit the euro-denominated debt market at the start of the year, also sold 10-year bonds via banks and a tap of a 2050 security.