Europe's Second-Lien Loan Sales Surge on Private Debt Demand
(Bloomberg) -- Issuance of second-lien loans in Europe has surged this year as more borrowers tap into the growing appetite from private debt investors who are keen to source higher-yielding paper.
Supply volumes have been further boosted by a handful of larger transactions that includes this week's 500 million euro ($571 million) second-lien loan for hearing-aid maker Sivantos Pte Ltd. and Widex A/S, which was originally earmarked for syndication in the high-yield bond market, according to people familiar with the matter.
"From an issuer perspective, it may be a little more expensive than a high-yield bond, but in some cases, and in light of current market conditions, it may be worth to pay more for the certainty of execution, flexibility and attractive documentation," said Michael Dakin, a capital markets lawyer at Clifford Chance LLP in London.
Sales of second-lien facilities in the region have reached 3.6 billion euros so far in 2018, which represents a 70 percent increase over last year's total volumes, according to data compiled by Bloomberg.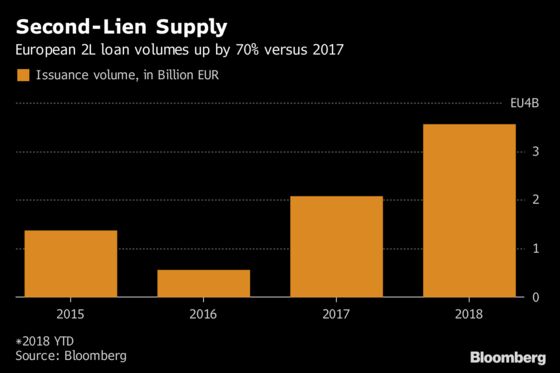 The hearing-aid manufacturer walked away from the high-yield market as its recent deleveraging enabled it to seek a second-lien loan at attractive levels that weren't far from what would have been achieved via an unsecured debt sale--but with the added bonus of flexibility, the people familiar said.
Sivantos' second-lien facility, alongside a 100 million euro add-on term loan, will replace an unsecured bridge loan put in place to finance the company's merger with Danish peer Widex. The loan pays a margin of 675 basis points with a zero percent floor and has a one-year non-call feature.
The bridge follows a July deal in which Sivantos secured 2.69 billion euros-equivalent in dollar- and euro-denominated term loans.
Yields in Europe's high-yield market broke through 4 percent on Wednesday, the first time that's happened since early July, after reaching all-time lows in 2017. As yields have crept up, non-financial bond sales have slowed with year-to-date volumes at 58.5 billion euros, far below the record 96.2 billion euros sold in 2017.
Syndicate bankers say a strong bid from direct lending funds looking to deploy cash amid record levels of dry powder is encouraging sponsors to opt for the instrument when seeking to add a subordinated layer of debt to buyout financings. They also note that the flexibility offered by the lower-ranked debt in comparison to bonds is an added allure.
On the demand side, second-lien loans offer leverage finance investors the chance to increase returns given the tight first-lien new issue pricing seen in Europe over the past couple of years. For private debt investors operating in an increasingly crowded and competitive market environment, it's a chance to put money to work away from unitranches or other bilateral facilities.