Banks in Europe Pay More to Borrow Overnight Than Three Months
A record cash glut is distorting European money markets, with euro-zone banks paying more to borrow overnight than for three months.
After the European Central Bank flooded markets with cash, banks are having to scramble to find a place to put all that money. That's causing a shortage of short-term German bonds that's especially acute as balance sheets get adjusted for year-end reporting.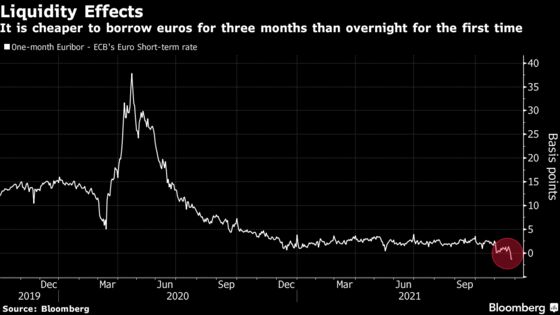 It's another sign of how unprecedented economic stimulus has turned markets upside down. In normal times, long-term funding should be more expensive because there's a higher risk the money will not get paid back. 
For the first time on Wednesday, the European Central Bank's euro short-term rate, which reflects wholesale funding costs for one day, climbed above three-month Euribor, a benchmark based on the average rate that banks can borrow in the money-market.
The ECB doubled the amount of money it would accept as collateral from banks looking to borrow sovereign debt last week, a bid to meet burgeoning demand and ease the squeeze. For Antoine Bouvet, senior rates strategist at ING Groep NV, the only short-term option for the ECB is to further increase that amount.
"I'm not sure they can engineer a wholesale rethink of their policy tools before year-end -- and not sure they would want to given that this is essentially a year-end issue," he said.
The ECB's bond-buying program and ultra-cheap loans boosted the amount of spare cash in the economy to 4.5 trillion euros ($5.1 trillion) earlier this month.
ESTR, as the ECB's overnight rate is known, rose 0.4 basis points to minus 0.570%. Three-month Euribor dropped to a record low of minus 0.583%.