Europe's Interest-Rate Hike Pioneers Are Now Calling for Caution
(Bloomberg) -- The Czech central bank is becoming more restrained in telegraphing prospects of future interest-rate increases.
After taking the lead in Europe by pushing borrowing costs up an unprecedented five times last year, central bankers are signaling a more cautious approach to tightening because of growing risks in the global economy. That's reflected in the expectations of investors, who have scaled down bets on an imminent rate increase.
"There's no point in speculating now whether it will be one hike, or two hikes, or three hikes," Governor Jiri Rusnok said on Czech public radio Thursday. "We'll see. Slightly higher rates can still be expected, but the pace of increase will certainly be slower than last year."
Forward-rate agreements used to bet on future borrowing costs show a small likelihood of a hike at the next policy meeting on Feb. 7, compared with a strong conviction among investors before each of last year's increases. Longer-term derivatives show they expect the benchmark to rise only once this year, and the central bank may even cut rates in 2020.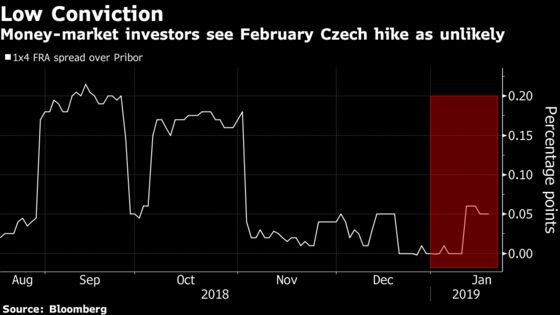 Even the two policy makers who unsuccessfully sought a quarter-point increase in December have recently refrained from expressing their commitment to backing another hike next month. Board members cite an economic slowdown in Germany and risks stemming from the potential escalation of trade wars among the main reasons for proceeding carefully.
The other side of the equation shows domestic inflation pressures from persistent wage growth, which provide arguments for continuing with lifting borrowing costs.
Recent comments by Czech policy makers:
Rusnok sees much slower rate hikes in 2019 than last year
Economy needs higher rates but caution is warranted, Michl says
Benda sees scope for several rate hikes within 18 months 
Dedek warns excessive hikes may hurt economy 
"If sentiment sours further and the overseas slowdown strengthens, policymakers may decide to refrain from tightening," said Marcin Kujawski, an analyst at Nomura International Plc in London. "We therefore expect a very cautious approach from central bankers in the Czech Republic and Hungary."