Europe's Deepening Gloom Is Captured By a Corner of Bond Market
(Bloomberg) -- One part of the European debt market is capturing the region's deepening economic pessimism more starkly than elsewhere.
The spread between the 30-year swap rate, the price of locking in borrowing costs, and German bond yields is at its widest since April. That reflects both unprecedented demand for bonds as a haven and a diminishing appetite for hedging by debt issuers amid record-low borrowing costs, according to ING Groep NV.
"I expect that this year's January round of issuance has seen less demand for hedging from borrowers due to entrenched low-rates expectations," said Antoine Bouvet, senior rates strategist at ING. "This has resulted in wider swap spreads overall. Both factors reflect dim economic views."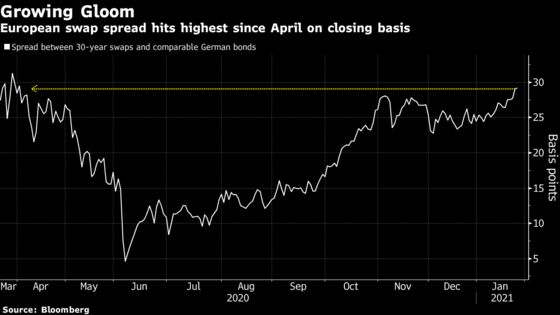 The spread between 30-year swaps and comparable German bond yields widened to as much as 31.6 basis points Wednesday, the most since April.
The increased pessimism marks a setback from last year, when the euro area's plans for a joint recovery fund helped brighten the growth outlook. Now, political unease over the future leadership of Germany and a crisis in Italy are compounding the gloom. The Stoxx Europe 600 Index of shares has retreated 1.5% from its recent peak.
The widening in swap spreads partly reflects Italian political risk, though the move may have gone a bit too far, according to Eric Oynoyan, a strategist at BNP Paribas SA.
"It is getting overstretched on the 10-year -- and the situation in Italy could be fixed quickly," he said in emailed comments. "We are currently short the 10-year asset swap outright and versus the two-year in a compression trade -- which is the safest way to play a normalization."
While Europe's political challenges may be temporary, its economic underperformance could last a while. It's set to lag global peers when recovering from the coronavirus crisis, according to the latest forecasts from the International Monetary Fund. The IMF downgraded the growth outlook for 2021 across Europe and underscored a generally poorer performance versus China and the U.S.
Markets are also reflecting this divergence. While the 30-year swap spread has also widened in the U.S., the move is lagging the European counterpart, resulting in a wider differential between the two spreads this month.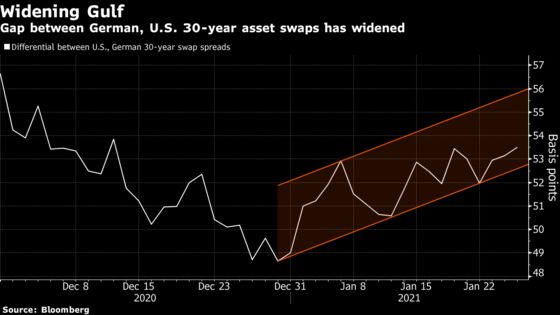 Read more:
Persisting Low Rates Volatility May Add to Swap-Spread Steepener
U.S. Swap Spreads May Widen as Big Banks Issuance Winds Down