Europe's Bonds Surge After ECB Says It Will Step Up Purchases
(Bloomberg) -- European bonds rose after the European Central Bank said that its pace of debt purchases under its pandemic program would accelerate over the next quarter, firming up its commitment to keep the region's borrowing costs in check.
Italian securities led the move higher, with 10-year yields dropping 10 basis points, after the ECB said that bond buying would be "significantly" faster over the next three months in its policy statement. President Christine Lagarde is due to give a press conference at 2.30 p.m. local time.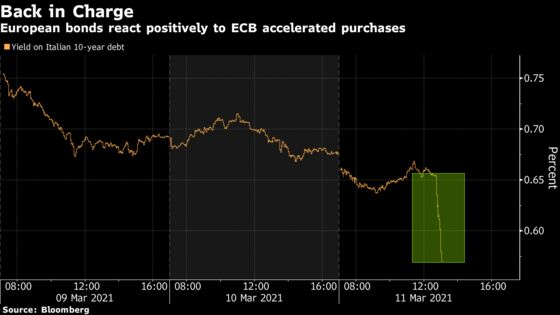 Europe's debt markets have come under the spotlight following a pronounced move higher in yields over the past month, which threatens to tighten financial conditions before the region's recovery gets under way. The ECB's pledge to increase the pace of purchases is a concerted effort to address concerns in the market that policy makers would let rates rise more than warranted.
"It is clear that the ECB has now drawn a line in the sand in terms of curve steepening," said Nick Kounis, head of macro and financial markets research at ABN Amro Bank NV. "This is an important signal as the central bank has significant firepower in terms of net asset purchases."
Lagarde will say that the risks to the economic outlook have become more balanced, according to officials. The euro extended gains after the report, rising 0.4% to day high of $1.1973.
The latest data suggests the institution has not meaningfully accelerated the pace of bond purchases under its pandemic relief program, and banks expressed concern this week that divisions within the ECB might stymie decisive action to keep a lid on borrowing costs. Data on Monday showed showed the ECB settled 11.9 billion euros ($14.2 billion) under its Pandemic Emergency Purchase Program last week, well below the average pace of 18 billion euros since the tool's inception.
German 10-year bond yields fell as much as five basis points to minus 0.37%. Italy's yield gap over Germany narrowed five basis points to 94 basis points. Traders in money markets see the ECB holding interest rates steady at minus 0.5% this year.
"The ECB finally somewhat clarified its reaction function and made clear that it intends to use the flexibility in the PEPP to compress yields," said Louis Harreau, ECB strategist at Credit Agricole SA. "We expect to see an actual increase in PEPP weekly purchases, probably between 20-25 billion euros a week."