Europe's Blockbuster Month for New Bond Sales in Four Charts
Europe's primary bond market has enjoyed its best-ever start to a year, with a record 238.8 billion euros ($262 billion) of January deals.
Borrowers have chosen to lock in funding early to take advantage of ultra-low borrowing costs and get ahead of potential risks like a slowing global economy, the U.K.'s exit from the European Union and the ongoing spread of China's coronavirus. January also saw the market's busiest-ever week, with over $100 billion of new offerings, as Europe sealed its status as a major global funding vehicle.
Investors are also piling in to the market, with notes from the likes of Italy's UBI Banca SpA and Austria among the most popular this month, according to data compiled by Bloomberg. Sales of pound-denominated bonds also set a monthly record, as borrowers sought to wrap deals up before today's Brexit date.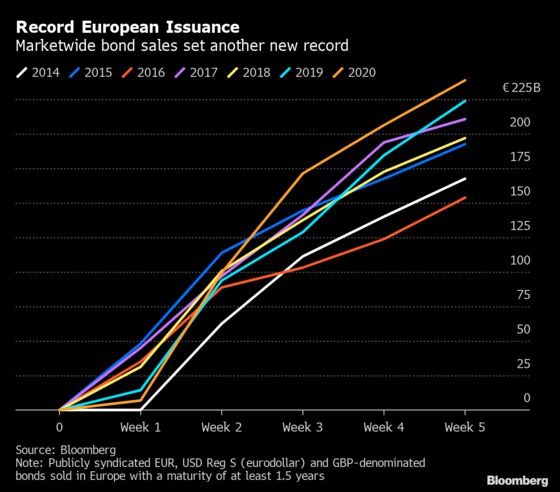 January's syndicated debt sales smashed through a previous 221.7 billion-euro record set in January 2019. SSAs have led the deluge, with sovereign offerings from the likes of France, Italy and Chile helping the sector price nearly half the month's total volume. Financials borrowers placed second with more than 98 billion euros of sales that included offerings from Goldman Sachs Group Inc. and Societe Generale SA.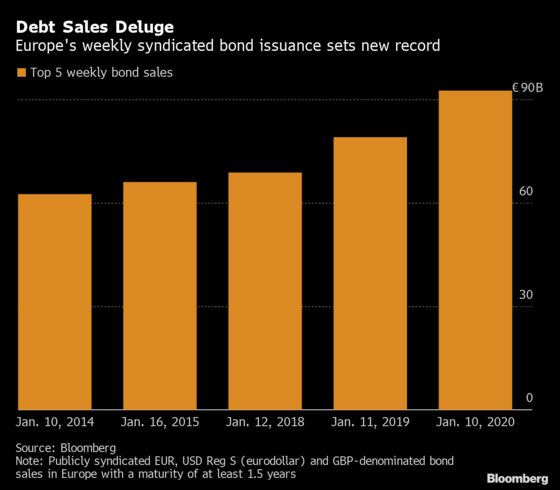 Nearly half the month's combined volume priced in the first full week of the year, as issuers from China, Indonesia, Japan and the U.S. joined local borrowers in tapping Europe's low funding costs. Lenders including Banco Santander SA and Deutsche Bank AG also contributed to the hefty 92.5 billion euros of sales, in what was the market's busiest-ever week.
The U.K.'s long-awaited Brexit day is finally here and the prospect of future trade negotiations turning acrimonious has prompted a rush to get sterling-denominated debt sales done quickly. Borrowers raised a monthly record 26.5 billion pounds of non-sovereign debt this month, boosted by Prime Minister Boris Johnson's decisive December 13 election win and sterling company bond yields falling to an all-time low.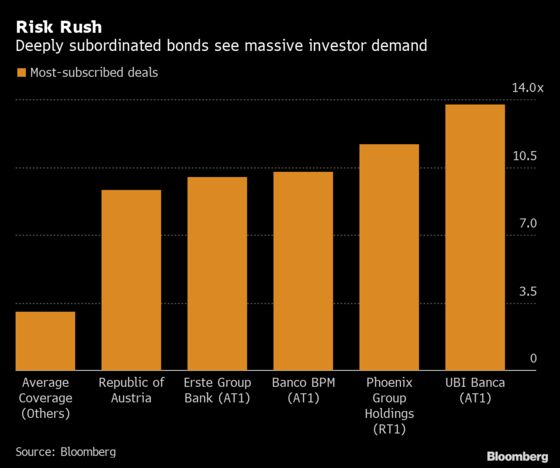 Investors have piled in to bond funds and new issues in a bid to shelter from surging global risk prompted by the worsening coronavirus outbreak, with inflows in to high-grade funds the third-largest ever at $12 billion in the week ended Jan. 29, BofA analysts said in a note, citing EPFR Global data. Among the most popular January trades have been subordinated bank debt offerings from UBI Banca SpA and Banco BPM SpA, data compiled by Bloomberg show. Those two notes pay holders an average coupon of 6%, well above the 0.36% average yield offered on euro-denominated company debt, according to a Bloomberg Barclays index.