Europe Falls Behind Emerging Markets as Bond-Market Stress Grows
(Bloomberg) -- Europe's stubbornly low yields are turning emerging markets into a favorite destination of euro-based debt investors.
The yield on a Bloomberg Barclays gauge of developing-nation bonds denominated in the shared currency is trading near its record low as it heads for a fifth month of positive returns. Emerging-market bonds are outperforming their European counterparts this year, taking their yield to a 27-month low relative to the latter.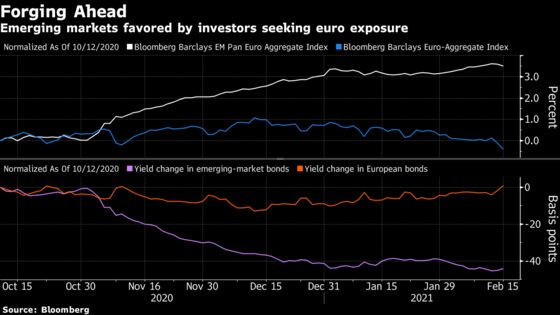 That suggests higher-yielding debt of poorer nations may become popular as markets shift gears to trade on the reflation theme. Investors looking for euro exposure, but put off by the continent's negative yields, may find emerging-market bonds capable of reducing their pain when inflation returns. Such a trade is also supported by expectations of a global growth recovery fueled by U.S. President Joe Biden's stimulus plan.
"In comparison to negative yields in Europe and tighter spreads in U.S. credit, emerging markets still offer value," said Anders Faergemann, a money manager at Pinebridge Investments in London. "We expect 2021 to be characterized by EM growth outpacing developed-market growth, which can be another factor in viewing EM as being in a sweet spot."
The yield on the Bloomberg Barclays EM Pan Euro Aggregate Index has fallen three basis points this year, taking the decline since Biden's election victory to 42 basis points. The rate on the Bloomberg Barclays Euro-Aggregate Index has jumped 10 basis points in 2021.
That's narrowed the additional yield offered by emerging-market securities to 1.24 percentage points, compared with 1.37 at the start of the year and 2.76 in May last year.
That's not only the lowest since November 2018 but also less than half of the average premium investors have demanded from developing-nation euro-denominated debt in the past two decades.
Within emerging markets, euro-denominated bonds are also outperforming dollar debt, historically the more popular option for investors looking for yield but wishing to avoid local-currency risk. A Bloomberg Barclays gauge of dollar bonds is down 0.6% in 2021.
While global central banks remain accommodative and are unlikely to raise rates before 2023, markets are signaling inflation is finally coming to the developed world. In Europe, a swap-market gauge of future inflation is close to its highest level since May 2019.