EU Clinches More Vaccine Deals After Underwhelming Rollout
(Bloomberg) -- The European Commission secured hundreds of millions of additional Covid-19 vaccines and vowed to accelerate authorization of shots targeting variants as it sought to put its inoculation campaign back on track.
The EU's executive arm finalized an agreement with Pfizer Inc. and BioNTech SE for 200 million more doses, and announced a major new order with Moderna Inc for 150 million more, also for this year.
The moves lock in a second-quarter supply boost as countries struggle to speed up their immunization drives. The commission also announced policy plans to accelerate research, authorization, procurement and distribution for vaccines that fight variants of the virus.
"Of course we have to fight with many, many detailed problems, bottlenecks, delays, which we do overcome step by step" Commission President Ursula von der Leyen told reporters in Brussels. "But it's an ongoing learning process."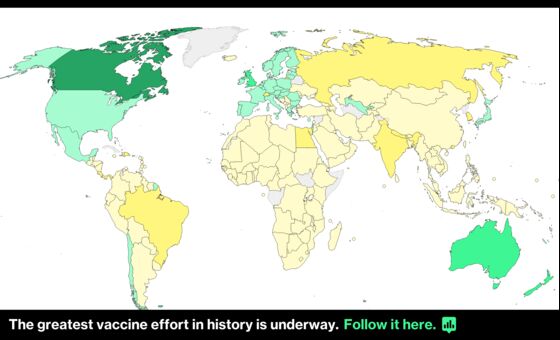 The additional order from Pfizer and BioNTech significantly increases the number of doses available from the two companies for the bloc's 27 member states. The contract includes a firm order for 200 million shots, with an option to request an additional 100 million, which could double the EU's overall supply from the companies.
As many as 75 million doses from the order will be shipped in the second quarter, von der Leyen said when the deal was first announced in January.
The new Moderna order includes total additional purchase of 300 million doses -- 150 million in 2021 and an option for 150 million in 2022.
Von der Leyen said that the EU regulator had not received a request to assess the Russian Sputnik vaccine.
EU countries are far behind the U.S. and U.K. in the race to vaccinate as many people as possible, and faster-spreading variants of the virus are gaining a stronger foothold on the continent.
European Internal Market Commissioner Thierry Breton said the bloc was now "on a war footing." He said AstraZeneca Plc, which the commission has clashed with over delays, had been slow to step up production but was now doing so, and was confident it would catch up with supplies.
The commission's new plan includes a commitment to concluding advanced purchasing agreements that show capability to produce vaccines in the EU "on a reliable timescale," with measures to monitor supply chains to prevent delays.
There are also steps to detect and assess new variants, and support genomic sequencing and an acceleration of the vaccine approval process.
The vaccines from Pfizer-BioNTech and Moderna have a shot based on messenger RNA technology. Unlike more conventional vaccines, the mRNA shots can be modified within weeks if necessary to protect against mutant versions of the virus.