Europe Bond Yields Lead the Way Higher on Supply, Reopening Bets
(Bloomberg) -- European bond yields and the euro got an early boost Wednesday, driven by upcoming auctions and expectations for accelerating price pressures amid the continent's reopening.
The German 10-year yield's ascent to a two-year high was followed by a slightly weaker auction, while its two-year counterpart climbed to the highest level since August. Treasury yields mirrored the move ahead of a $27 billion 20-year bond sale. Meanwhile, the euro earlier approached three-year highs against both the dollar and yen, before trading little changed at $1.2211 as of 11:00 a.m. in London.
European bond yields "are moving based on higher inflation expectations and the reopening of the economy," said Althea Spinozzi, fixed income strategist at Saxo Bank. "The only direction yields can go is higher."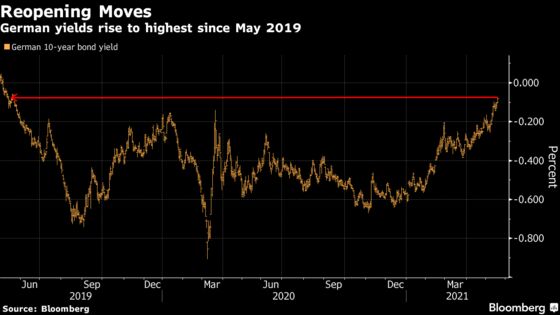 Authorities across Europe are loosening restrictions as infection rates fall and vaccinations rise. Italy, the original epicenter of the crisis in Europe, will phase out its national curfew in the coming weeks, and tough curbs are gradually easing across Germany. The yield on Italian 10-year bonds rose five basis points to 1.16%, the highest since July.
"Rising yields in the euro zone are providing more support for the euro and are an indication of rising optimism over outlook for European economies," said Lee Hardman, a strategist at MUFG. "The positive Covid developments provide more confidence that activity in the euro zone will begin to rebound more robustly."
The moves set the stage for today's bond sales. Apart from Germany, Finland offered 3 billion euros of 10-year debt via syndication, where orderbooks were trimmed to 13 billion euros from 18.5 billion euros.
Bloomberg's fear-greed indicator -- a gauge of sentiment that measures the ratio of buying strength to selling strength in an asset -- shows that bullish momentum for the euro is at the strongest since December.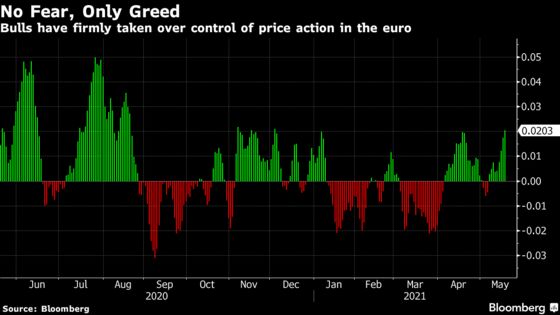 Read More: Dollar Nearing Three-Year Low Ignites Global Currency Rally
That said, excessive currency strength and a further ascent in yields could undermine the recovery and trigger concern from the European Central Bank, according to Christoph Rieger, head of fixed-rate strategy at Commerzbank.
In that scenario, "some Governing Council members should be stressing that the ECB will make sure to keep financing conditions favorable," Rieger said. "This could then mean hints that purchases can run for longer and that the first rate hike the market is predicting in 2023 looks premature."
The ECB warned of risks to financial stability on Wednesday, saying the euro area faces elevated risks as it emerges from the pandemic with high debt burdens and "remarkable exuberance" in markets.