Europe Actually Still Has an Important Card to Play on Iran
(Bloomberg) -- Europe's insistence on keeping a nuclear accord with Iran on life support after the U.S. walked away from the deal is yielding unexpected leverage.
European powers, who once bet on revived trade ties with Iran, don't have much more to lose after the U.S. reimposed sanctions. But by resisting pressure from President Donald Trump and keeping the deal alive, they now hold the key to extending a weapons embargo on Iran that expires in October.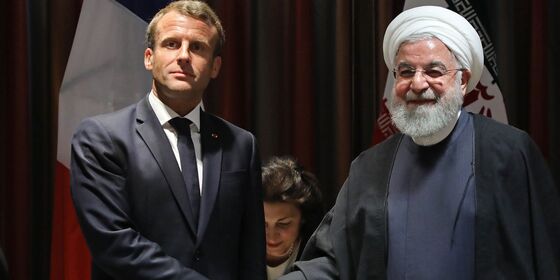 The threat of a widened regional arms race -- and the possibility of a Democratic victory in the U.S. presidential election -- help explain why Germany, France and the U.K. are playing for time on the Iran deal, sticking to a diplomacy-first approach even as they struggle to influence events.
In the 2015 accord, Iran agreed with the U.S., Russia, China and the three European countries to include a dispute resolution process. That option could be used to send Iran back to the United Nations Security Council to face a re-imposition of UN sanctions, including on arms imports. With the U.S. out, finding a reason to trigger the so-called referral to the Security Council would fall to Europe.
The arms embargo is also on the U.S.'s radar. Secretary of State Mike Pompeo tweeted about it in August in a comment that also mentioned Qasem Soleimani, the Iranian general killed in a targeted strike last week.
Russia has said it plans to sell advanced new arms to Iran once the ban ends. Chinese companies could follow suit, changing the balance of conventional forces in the region and potentially undermining U.S. air supremacy.
European Union foreign ministers were said to be split over continued engagement with Iran at a meeting in Brussels on Friday. Nonetheless, Josep Borrell, the EU's foreign policy chief, said the bloc is committed to salvaging the 2015 nuclear deal.
There's a logic to letting the deal limp along, said Peter Jenkins, a former U.K. diplomat who negotiated a previous European deal with Iran that fell apart over U.S. insistence on Iran foregoing all uranium enrichment capacity.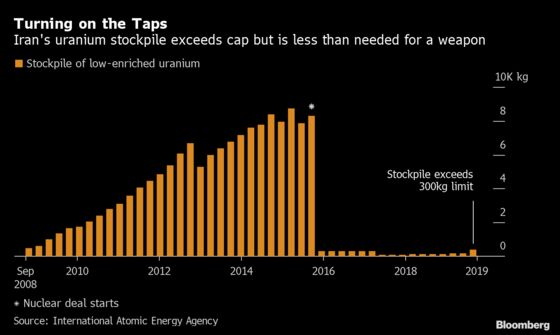 When the accord crumbled in 2005, Iran went from possessing a nominal enrichment ability and allowing intrusive inspections to ramping up its nuclear capacity. It eventually piled up enough enriched uranium for more than a dozen weapons before the 2015 accord eliminated it.
"The situation is reminiscent of 2005," Jenkins said. "What's left of the accord is better than no deal, and an opportunity to improve on it may come later in 2020."
Iran has emphasized that it hasn't formally left the deal, still allowing for expansive international monitoring of its nuclear program while giving the EU time to help it work around sanctions imposed by Trump. The U.S. unilaterally left the accord in May 2018.
"When the belligerents aren't willing to approach the negotiating table, we can bring the negotiating table to them," said Foreign Minister Alexander Schallenberg of Austria, which hosted talks that led to the 2015 agreement.