Euro-Zone Office Prices May Hit Record High Amid Growth Slowdown
(Bloomberg) -- The price of offices in the euro zone could reach a record high in the next three years -- that is, if the region can stay out of recession.
Slowing economic growth may actually help commercial real estate prices as it reduces the prospect of interest-rate hikes and therefore depresses yields on safe-haven investments such as benchmark government bonds, according to Capital Economics. But an actual recession would kill off any growth in prices as it would hit rents, the London-based consultancy says.
Prime office yields reflect the multiple of a building's rent than an investor is willing to pay for the asset. All-time low yields imply record-high prices.
Euro-area yields could dip below 3.5 percent in the next three years for the first time ever, Kiran Raichura, senior property economist at Capital Economics, wrote in a report Friday. The estimate reverses a previous forecast that yields would rise in 2020 and 2021.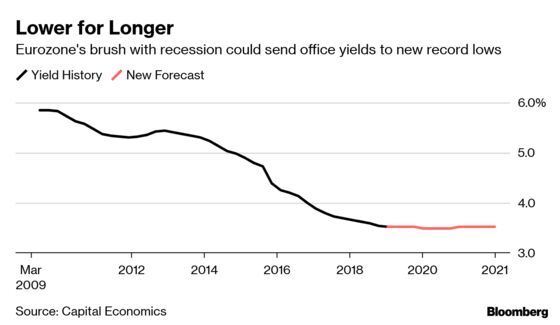 Capital Economics now forecasts the euro zone will grow by 1 percent this year and 0.8 percent in 2020, just enough to ensure that rents won't fall.
"Sentiment has yet to come around to our view that the European Central Bank is still at least a couple of years away from tightening monetary policy," Raichura said by email.
European commercial real estate investment hit a record 312 billion euros ($354 billion) in 2018, according to broker CBRE Group Inc. That was driven by the second-highest deal volume ever in Germany, and by new record levels in the Netherlands, Poland, Portugal and Spain. Brexit Britain was one of the few markets to register a decline.