Euro Short-Squeeze Stage Set as Currency Tests 3-Month High
(Bloomberg) -- Euro bears are holding tight, setting the common currency up for a potential short squeeze that could turbocharge a burgeoning rally.
Hedge funds and other large speculators have been adding to their euro short positions, according to the latest data from the Commodity Futures and Trading Commission. Having reached a 19-month peak in August, the fast money had pared its net short holdings for three consecutive weeks. But it's edging up again. The euro reached a three-month high in the spot market on Monday.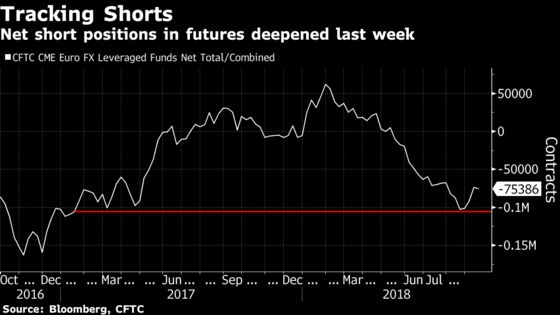 "A short squeeze is certainly possible," said Craig Erlam, senior market analyst at online trading firm Oanda Corp. in London. "A lot of what can hold the currency down appears to have been priced in, be it an economic slowdown, trade war risks, Brexit negotiations or emerging-market volatility."
Meanwhile, a Citi gauge that infers positioning by matching the returns of funds that invest in currencies with daily exchange rates between the world's most-traded pair is signaling managers still hold sizable short-euro, long-dollar positions.
The gauge has been negative since late March -- a possible indicator that FX funds made money when the euro weakened by going short.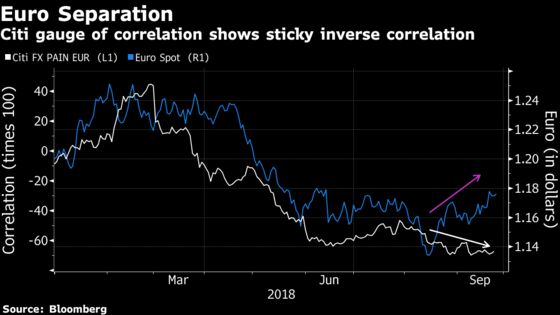 The divergence in recent weeks signals that funds may be holding tight to short positions.
Of course, a full picture of over-the-counter holdings is unavailable, and reported data can sometimes be muddied by spread trades and the like. At the same time, foreign-exchange strategists use a variety of methods to divine positioning and, not surprisingly, differ on whether euro bears are looking increasingly brave -- or are out of step.
"Based on technical, momentum strategies, it doesn't look like there's a big euro short position that needs to be flushed out of the market," said Dominic Bunning, an FX strategist at HSBC Bank Plc in London. "Since the middle of August, some of the faster money has probably closed out."
For others, there are enough signals of bearishness, including risk reversals on the pair that show hedges against declines are more expensive than those against appreciation.
The common currency rose 0.2 percent to $1.1774, after brushing its highest intraday level since mid-June on Monday after European Central Bank President Mario Draghi said he sees a "relatively vigorous" pickup in underlying inflation -- a potential precursor to higher interest rates in 2019.
"The ECB still seems confident that the economy is on a good trajectory and appears intent on the plans it laid out a few months ago on QE and interest rate hikes," said Oanda's Erlam.