The Euro Has Never Been This Popular With Emerging Markets 
(Bloomberg) -- The killing of an Iranian general and a Chinese viral epidemic have dominated headlines so far this year, but January will also be remembered as the month emerging markets' euro fixation shifted up a gear.
The single currency was already popular in the developing world for its low yields, but the U.S. dollar's gains since the New Year have made the euro a refuge for borrowers and carry traders. Sales of new bonds in the currency have hit a monthly record -- after an annual best in 2019. Euro-funded carry positions proved as profitable as dollar-based wagers were loss-making.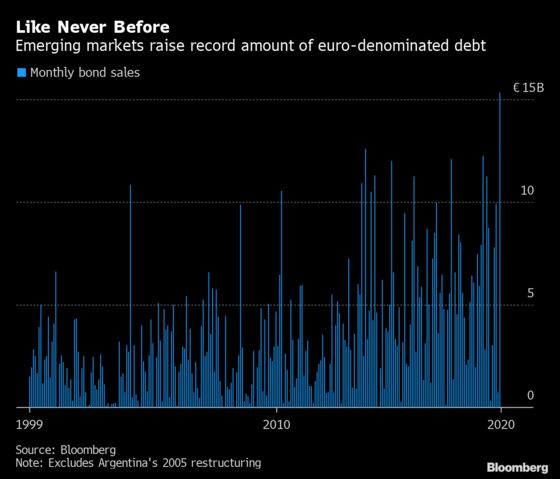 The dovish stance of the European Central Bank is at the core of the euro fever among emerging markets. With inflation mostly below target for years and governments reluctant to offer fiscal stimulus, the ECB has continued to provide the accommodation the euro zone's weak economy needs. Its negative yields keep borrowing costs more than 3 percentage points below corresponding dollar debt.
"Costs have gone so low that emerging-market borrowers are encouraged more," said Kieran Curtis, the London-based director of investment at Aberdeen Asset Management Plc. "As long as rates in Europe stay a long way below those in the U.S., it will be attractive for issuers to issue and as long as credit spreads in Europe remain tight, it will be attractive for investors to buy."
Borrowing by emerging-market issuers has topped 15.3 billion euros ($16.9 billion) in January, double the amount raised in the same month last year, and more than any other month on record since the birth of the euro in 1999. That's equal to 20% of the 78 billion euros borrowed in the whole of last year, itself a record for euro-denominated debt.
The average yield on emerging-market bonds issued in the currency has fallen 21 basis points in the past eight weeks as confidence grew that the ECB, under its new president, Christine Lagarde, would keep monetary policy accommodative at least this year and next. While she has denied the ECB was on "auto-pilot" and recent data have shown recovery in euro-zone manufacturing, money managers consider the economy to be a long way from the kind of strength that would require tightening.
"Of course, the game will be over when the ECB starts thinking of shifting policy," Curtis said. "But that doesn't look likely in the near future."
An unexpected contraction in Italy's economy highlighted the region's struggle to revive growth.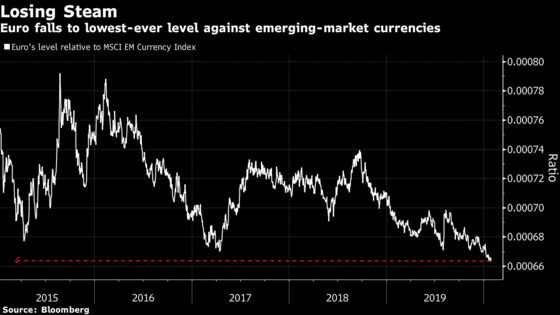 The ECB has remained active in Europe's corporate-bond market, depressing local yields. That provides an incentive for investors to look for higher-yielding assets, creating demand for emerging-market borrowers, he said
Even though the U.S. and China have signed a phase-one deal on their trade disputes, removing an incentive for the dollar to rally, the coronavirus and the Iranian general's assassination have increased global risks, spurring a flight to the perceived safety of U.S. Treasuries.
That's thrown the calculations of carry traders awry. An investor borrowing 21 dollars and investing one dollar each in the assets of 21 emerging-market currencies tracked by Bloomberg would have lost 1.1% in January, corresponding to a 13.2% annualized loss.
If the same carry trades had been funded by borrowing 21 euros, the investor would have gained 1.1% this month, according to calculations by Bloomberg.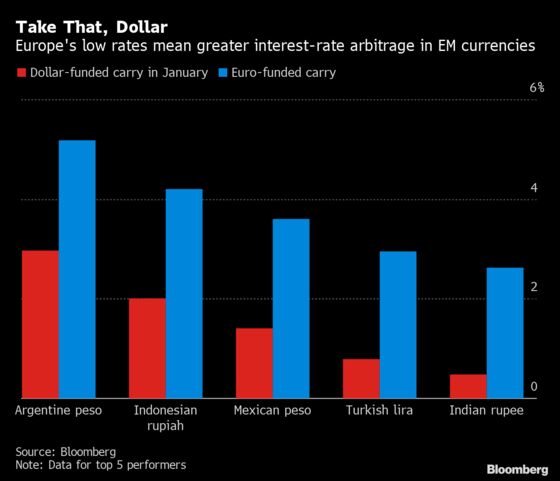 While the euro has grown in popularity, it's unlikely to become a challenger to the dollar's dominance any time soon, money managers say.
For borrowers with cash flows predominantly in the U.S. currency, it is less useful to borrow in the euro. And for carry lovers, the shared currency has already fallen to a record low against emerging-market exchange rates. That makes it ever more costly to initiate a trade and buy developing-nation assets with euros.
Euro at Record Low to EM Makes Boarding Carry Train Costly
"The euro was weaker last year," said Anders Faergemann, a senior portfolio manager at Pinebridge Investments in London. "That doesn't mean it's going to remain weak forever."