Euro Is Turning Into 'Credible' Safe Haven After EU Rescue Deal
(Bloomberg) -- Europe's landmark recovery deal is just what the euro needs to press on with a rally that could send the common currency to multi-year highs, according to strategists.
Having been in the doldrums since the euro area sovereign debt crisis nearly ripped the bloc apart less than a decade ago, strategists see the common currency roaring back in the coming months, potentially as high as $1.30.
For the first time member states will underwrite joint bond issuance, posing a challenge to the hegemony of the dollar in financial markets.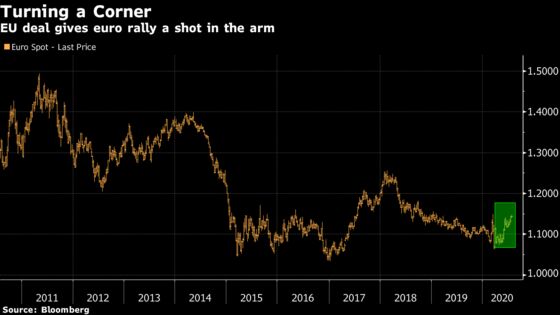 Here's what market strategists said:
Mizuho (Euro can climb to $1.30)
The euro is becoming "more credible" as a safe haven following the deal reached by EU leaders and will rally over the next 12 months toward $1.30, a level not seen for six years, according to Peter Chatwell, head of multi-asset strategy

For now fair value for the currency is around $1.22, he said, and a move higher can be positioned for by buying higher-yielding bonds in the region, he added
Credit Agricole (Massive pool of bonds created)
The euro will likely appreciate to $1.18 "and higher," with the deal set to create a "massive new pool of high-quality, euro-denominated bonds that could be used by foreign investors to diversify away from Treasuries and the dollar," says strategist Valentin Marinov

The euro "remains a buy on dips in the near-term with any fresh longs starting to target a break above the highs of the year"
Commerzbank (Air is getting thinner for BTPs)
Recommends investors lock in profits on their trades positioning for a tightening in the yield spread between Italian bonds and Germany below 150 basis points, having hit the bank's target
"Markets are turning the page on the recovery fund," write strategists Michael Leister and Cem Keltek

"The bullish tightening suggests that the low vol, long carry backdrop has legs, but the air is getting thinner for BTPs"
Rabobank (Play euro versus Swiss franc)
If European politicians manage to keep a lid on euro area fears, "EUR/CHF is set to edge higher," says Jane Foley, head of foreign-exchange strategy

"It may be able to push back to 1.08," from around 1.07388 currently

"However, given that unemployment queues will be lengthening in many parts of Europe in the months ahead, European politicians may have to work hard just to stand still to keep the European Monetary Union project on course"
Read More:
Euro Rally Is Here to Stay as It's Built on Strong Foundations
Italian Bond Spread Bids Goodbye to Post-Pandemic Widening