Euro Industry Posts Biggest Annual Slump Since Financial Crisis
(Bloomberg) -- Euro-area industrial production fell more than twice as much as forecast in December, raising further questions over the state of the bloc's economy.
The 0.9 percent drop -- more than twice the 0.4 percent forecast -- was driven by declines in capital and non-durable consumer goods production. From a year earlier, output plunged the most since 2009, when the economy was dealing with the fallout from the financial crisis.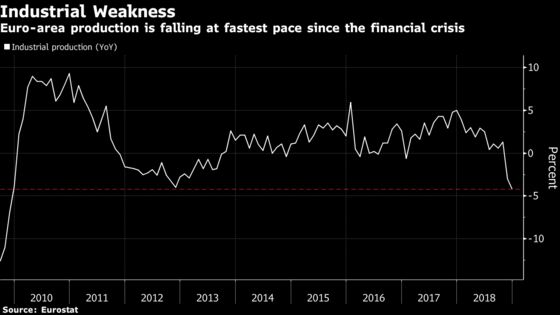 Disappointing news has piled up since the European Central Bank decided to halt asset purchases last year. Policy makers have kept a brave face, arguing that the 19-nation region is merely going through a phase of weaker growth -- amplified by a spate of temporary factors and external threats -- and there's no risk of falling into a recession.
Still, companies are turning pessimistic. GEA Group, a German manufacturer, issued a profit warning last week, Leoni AG suspended dividend payments for 2018 after earnings declined more than expected, and Daimler AG is preparing a "comprehensive" cost-cutting program as the automaker fights through a U.S.-China trade spat.