Euro Hopeful Flags Laundering Concern in Wide Banking Probe
Romania's central bank has launched a probe over alleged money laundering after questionable transactions at half of the euro aspirant's commercial lenders raised suspicions from outside the country.
The central bank is checking as many as 17 lenders -- half of the banking sector -- that have opened personal and corporate accounts containing transactions that can't be explained or "raise the suspicion of illegality," said Nicolae Cinteza, the head of the bank's supervision department, in a phone interview on Thursday. He didn't identify which banks are included in the probe.
"We've received some warnings from abroad and after a routine check we discovered some suspect accounts at more banks," Cinteza said. "The investigation started last year and it's a pretty complicated process, so we don't know how long it will take to finalize it. It's too early to talk about potential sanctions."
Romania is following other European Union countries in boosting efforts to tackle money laundering as it strives to adopt the euro later this decade and the EU cracks down on money laundering with new regulation. Scandals have roiled some member states, such as Latvia and Estonia, and banks including Danske Bank over the past years, making the road to the single currency more difficult among the newest EU members in the south.
Bulgaria, which lies to the south of Romania, put off a key step in its bid to adopt the euro, saying it will advance on the project only if assured that banks are ready and there is consensus among the public.
As another example of the difficulties euro aspirants face in regulating their banks, Croatia's central bank last month criticized an attempt by a local unit of Raiffeisen Bank International AG to hire a PR agency to pressure the country's courts.
Croatia still hopes to join the ERM-2, the pre-adoption waiting room, by midyear and the eurozone by 2023.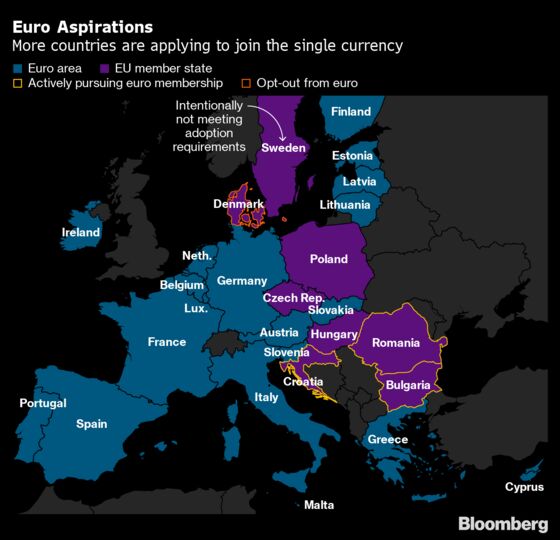 Cinteza said one of the banks in Romania was involved in the scandal surrounding Danske Bank, but the current investigation is separate. Prosecutors from the anti-organized crime and terrorism unit are also looking into the matter, he said.
The Romanian banking association declined to comment when contacted by Bloomberg.
"If we find out that the banks were knowingly involved in the transactions, then it's a criminal matter. If not, it's a matter of banking supervision and we'll be the ones applying potential sanctions," Cinteza said.