Euro Hitched to Pound and Caught in Throes of Brexit Cliffhanger
(Bloomberg) -- They're getting a divorce but for currency traders, they're almost as close as ever.
Britain's torturous settlement bid with the European Union has pushed the pound and euro in sync against the dollar as investors price risks on both sides of the Channel. The 40-day correlation between the two currency pairs has climbed back toward 0.80 and is nearing post-crisis highs as the daily drama of negotiations grips investors on the Continent, too.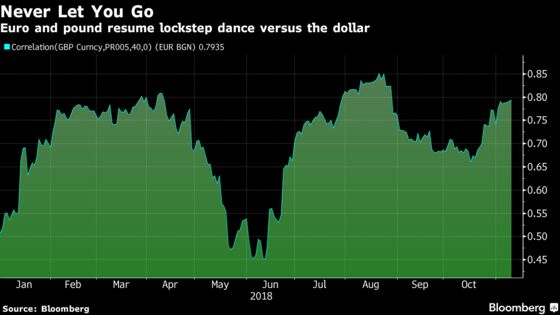 "It's even influencing the euro though obviously not as much as sterling," said Andreas Koenig, head of global currencies at Amundi Asset Management, with 1.48 trillion euros ($1.68 trillion) in total. "It creates uncertainties and it affects Europe because it's one side of the negotiations."
Sure, shifts in risk appetite, the midterm elections and monetary forces have moved the dollar against major peers over the past six weeks. But the euro's link with the pound could yet continue as negotiations go to the wire.
In the worst-case scenario that a Brexit deal is rejected by British lawmakers and the standoff between Rome and Brussels intensifies, the euro "should suffer against the dollar" in concert with sterling thanks to the political blowback, according to Steve Barrow, head of currency strategy at Standard Bank in London.
Koenig has bullish positions on the pound, betting negotiators will eventually forge an agreement that will unleash gains, but says there could be plenty of setbacks along the way.
The EU's tough stance at least acts as a deterrent to other would-be defectors, which should help limit the damage to European Union unity and the euro, according to Esther Reichelt, a currency strategist at Commerzbank.
"I would assume that the EU proved sufficiently stubborn and resistant to limit the fear that the U.K. could set an example for other EU countries, so I would actually be surprised if a deal would be a game changer for the euro," she said.