Euro Bulls Still Have a Fighting Chance, Just Not on Draghi Days
(Bloomberg) -- Euro bears are winning this round. Whether they win the war still hinges on inflation and growth outlook in the euro zone, and Mario Draghi's dovish remarks did little to take away from an economy that remains relatively robust.
The euro sank after the European Central Bank pledged to keep interest rates unchanged at current record lows at least through the summer of 2019, offsetting any hawkish bias from its decision to halt its bond-buying program at the end of this year. The common currency slipped from a one-month high of $1.1851 to trade as low as $1.1590, a level unseen since May 30. This was the euro's biggest drop since June 24, 2016, the day after the Brexit referendum, continuing a pattern of weakening on ECB decision days. Thursday makes it six in a row.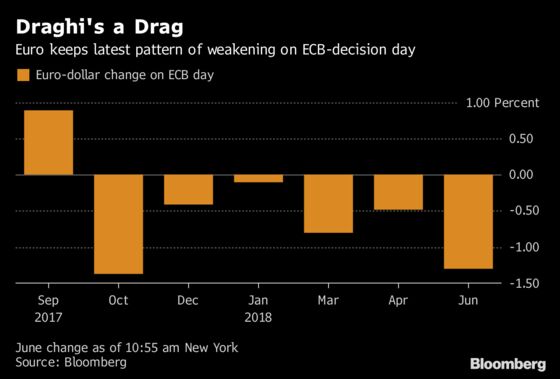 Traders were poised for upside risks ahead of the decision given that leveraged investors were holding the shortest position on the euro in a year and asset managers had already trimmed longs. The Governing Council's decision to rule out a rate hike for at least a year caught euro bulls wrong-footed as investors focused on interest rate differentials, a day after the Federal Reserve raised rates and pledged to continue tightening each quarter this year.
Still, bears would need to see more soft data out of the euro area or increased volatility to bet on an extended slide. The currency is likely to settle in a lower trading range rather than fresh cycle lows, as the market has already priced in a tighter policy by the Federal Reserve and a slower start in ECB rate hikes.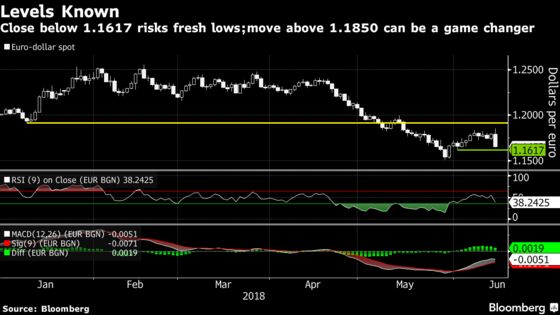 A close below the June 1 low of 1.1617 would keep the euro under pressure with charts signaling it could extend its drop toward $1.1500, near the year-to-date low of $1.1510 it traded in late May as political risks in Italy mounted. For a rebound to last, a close above Thursday's high of $1.1851 is needed.
Draghi mentioned that "uncertainties related to global factors, including the threat of increased protectionism, have become more prominent. Moreover, the risk of persistent heightened financial market volatility warrants monitoring." Should these risks keep fading, euro bulls may live to fight another day.