Euro Backed by Buoyant Economy Too Good to Stay Knocked Down
(Bloomberg) -- Not all is lost for the euro.
The shared currency fell the most in a month against the dollar Thursday after the European Central Bank repeated its pledge to keep interest rates unchanged "at least through the summer of 2019." But that projection was coupled with an upbeat view of the euro-zone economy, where ECB President Mario Draghi saw price pressures strengthening amid ebbing global trade tensions.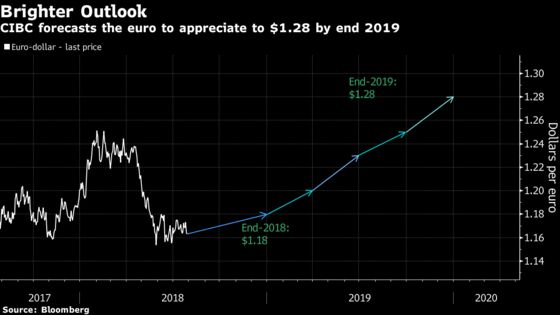 Some analysts saw this as a mismatch that could spell tighter monetary policy coming earlier than markets are currently pricing, in turn boosting the euro.
"The assumption of rates being on hold 'at least through the summer' appears inconsistent with the fundamental backdrop," said Jeremy Stretch, head of Group-of-10 currency strategy at Canadian Imperial Bank of Commerce. "Despite the immediate correction, over the medium run the euro can and should trade higher."
The euro gained 0.1 percent to $1.1669 as of 9:50 a.m. London time on Monday.
CIBC predicts the euro will end this year at $1.18, in line with the Bloomberg currency survey, before climbing to $1.23 by mid-2019 and then ending next year at $1.28, a level not seen since 2014. While the median forecast in the Bloomberg survey has weakened in recent months, it still projects euro strength, estimating the exchange rate at $1.26 by the end of next year.
Options also signal that the recent euro weakness will fade. Six-month and one-year euro-dollar risk reversals reached their least bearish levels in two weeks on Thursday.
The ECB press conference on July 26 came less than 24 hours after the European Union and the U.S. backed away from a potential trade war. That's given euro bulls another reason to hold on to their predictions.
"The meeting between European Commission President Jean-Claude Juncker and President Trump has proved more effective at damping downside risks for the euro-zone economy and the euro," said Lee Hardman, an analyst at MUFG. "The ECB also displayed a little more confidence in the growth and inflation outlook in the euro zone."
For now, the ECB's guidance on rates remaining low will limit gains in the euro and see it at around $1.18 into year-end, London-based Hardman said. The shared currency will climb to $1.24 by the middle of next year, he predicted.
Money markets are pricing in the first 10 basis-point hike to the ECB's deposit rate to come toward the end of 2019, a pricing that Draghi seems in no hurry to sway.
"For now, the ECB is happy to continue the debate about what the summer reference means, but we would be unsurprised should the internal battle between the hawks and the doves see an earlier resolution with the hawks in ascendancy," London-based Stretch said.