Euro-Area Unemployment Falls Below 8% for First Time in a Decade
(Bloomberg) -- Euro-area unemployment unexpectedly fell to the lowest level in a decade, indicating that slower economic growth hasn't yet derailed the labor market.
The jobless rate fell to 7.9 percent in November, and readings for prior months were revised down, according to a Eurostat report on Wednesday.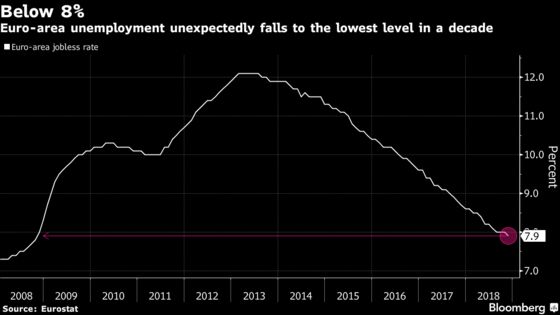 For the European Central Bank, the numbers will underpin policy makers' expectations that an increasingly tight labor market will help fuel wages and ultimately inflation, even after policy maker capped asset purchases at the end of 2018.
While the data are lagging, the report offers a piece of good news after a string of indicators so far this year eroded confidence in the health of the 19-nation bloc and its growth engine -- Germany. Declines in factory orders, industrial production and exports sparked speculation that a recession has taken hold in Europe's largest economy.