Euro-Area Gloom Pushes Investor Expectations to Debt-Crisis Low
(Bloomberg) -- Euro-area investor confidence declined for a fourth month in December, with expectations for economic prospects plunging to the lowest since 2012.
An index measuring sentiment in the 19-nation region slid to minus 0.3 from 8.8 in November, Sentix said in a statement on Monday. A gauge for current conditions also slipped.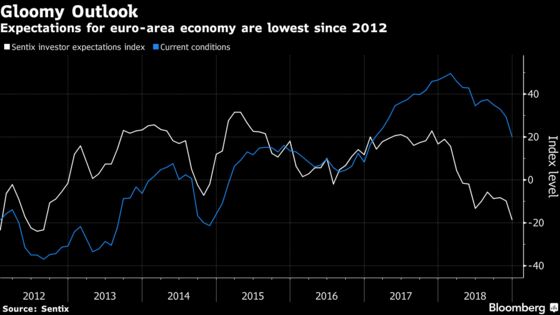 "The economy is slimming down at a considerable pace, again challenging politicians and central banks," Frankfurt-based Sentix said. "Whether trade disputes, the Italian crisis, unrest in France and Belgium or Brexit: it's coming from all corners at the moment."
The report is the latest in a raft of numbers pointing to decelerating growth as the European Central Bank prepares to cap stimulus. Sentix added that the momentum of the current downturn "is in many respects similar to that of 2007," the year before the global financial crisis started, and that European banks appear to be in a similarly precarious position.
Historic lows in Deutsche Bank shares and slumping bank stocks generally "speak a clear, worrying language," it said.