Euro-Area Core Inflation Revised Lower as ECB Moves on With Exit
(Bloomberg) -- The latest update on inflation bears a warning for the European Central Bank.
Prices excluding volatile components rose less than initially reported in June, the month policy makers announced that net asset purchases would end this year. The core rate fell to a two-month low of 0.9 percent, compared to an earlier estimate of 1 percent and a reading of 1.1 percent in May, according to a Eurostat report.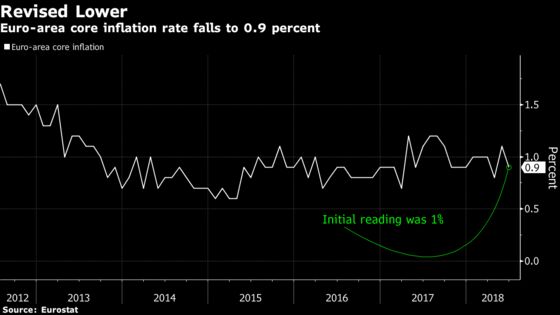 Headline inflation was confirmed at 2 percent. The ECB aims to keep price growth just below that rate in the medium term.
Increased confidence in the inflation outlook was the main reason policy makers cited for their decision to slowly unwind unprecedented stimulus. Based on updated forecasts, ECB President Mario Draghi said at the time that record-low interest rates and large-scale asset purchases had contributed to a substantial improvement in the outlook, predicting that underlying price growth would pick up toward the end of the year.
The revision is a slight setback for the ECB and underlines the need for caution in scaling back accommodation. Executive Board member Peter Praet has stressed in recent speeches that "significant" stimulus is still needed to further build up domestic price pressures.