EU to Commit to Taking Gender Into Account in Picking ECB Chief
(Bloomberg) -- Want the lowdown on European markets? In your inbox before the open, every day. Sign up here.
European governments are poised to commit to taking gender balance into account when picking the next president of the European Central Bank, in what could signal a boost to the chances of potential female candidates for one of the most important jobs in the euro area.
"Gender balance will remain an aspect" when deciding "future appointments, including in the upcoming appointment procedure for the President of the ECB, as well as for another member of the Executive Board of the ECB," according to the draft of a letter due to be discussed on Wednesday among European government envoys in Brussels.
Should ambassadors agree on the exact wording, it will be sent to the president of the European Parliament on behalf of all EU governments.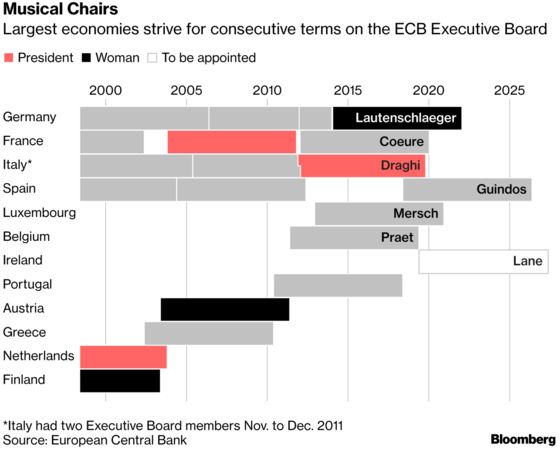 The draft, seen by Bloomberg, is intended as a response to a complaint by the bloc's assembly earlier this month about the "lack of respect" for gender balance when identifying leading candidates for key positions in EU financial institutions. The EU Parliament is preparing to vote on the appointment of Irish central banker Philip Lane to the Executive Board of the ECB, as well as on the nomination of a new chair of the European Banking Authority.
Despite previous commitments to gender balance reaffirmed in the letter, EU governments didn't put forward any female candidates for the vacant ECB job, which Lane is due to fill in June. And the ECB itself voted last year for a man to succeed its female head of banking supervision, even though a well-qualified female candidate was shortlisted.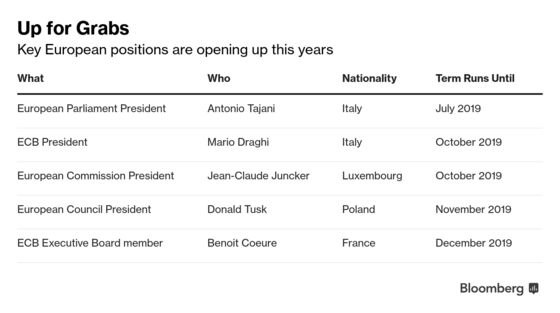 Calls for gender balance may be better heard in June, when the EU is due to decide who will succeed the heads of the European Commission, the European Council and the ECB -- all of whom, like the head of the European Parliament, are male. Potential female candidates for the ECB role include International Monetary Fund Managing Director Christine Lagarde and Bank of France Deputy Governor Sylvie Goulard.