EU's $100 Billion Social Debt Orders Show Immunity to Bond Rout
(Bloomberg) -- The European Union's latest offering of social bonds proved immune to the sudden dropoff in demand that has gripped global debt markets.
The bloc pulled in over 86 billion euros ($102 billion) of orders for a 9 billion-euro sale of 15-year debt via banks Tuesday, to help fund a regional jobs program. The bumper orderbook grew even after the EU cut its pricing, showing investors are still piling into ethical debt.
"I take the swiftness of the process as a sign that there is no real challenge for the EU to get demand," said Antoine Bouvet, senior rates strategist at ING Groep NV. "It doesn't suggest that there is much reluctance to pick up duration here."
The triple-A rated bloc has emerged as one of the most appealing new borrowers, after bidding for its first social bond smashed records last year and a sale in January saw strong demand. The market for sustainable bonds is also burgeoning, with Italy's debut last week pulling in the biggest-ever green order book.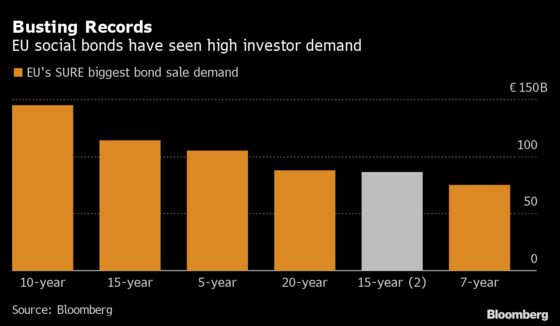 The broader debt market has seen demand struggle at sovereign auctions, including for U.S. Treasuries and German bonds, sparking the selloff in recent weeks. The EU may have its own appeal, with its debt seen as a potential future rival asset to Treasuries.
The sales for its 100 billion-euro SURE social bond program are just a taster ahead of financing for its 800 billion-euro pandemic recovery fund, a third of which is due to be green debt.
"There is strong appetite for its name out there," said Piet Christiansen, chief strategist at Danske Bank A/S, who expects another social bond sale by the end of the month.
The bloc cut pricing to 4 basis points below midswaps, from initial guidance of about 2 basis points below. While the order book was "huge," it's no longer a "one-way street" in terms of ever-tighter deal prices, said Michael Leister, head of rates strategy at Commerzbank AG.
DZ Bank AG, HSBC Holdings Plc, NatWest Markets, Toronto-Dominion Bank and UniCredit SpA were joint lead managers on the deal. While the orderbook was smaller than a near-record 114 billion euros seen for the same maturity in November, the bloc sold more debt.