EU Speeds Vaccine Drive After Early Flubs Leave Bloc Behind
(Bloomberg) -- The European Union is finally catching up in securing vaccine supplies. The challenge now is getting shots into arms.
After stumbling out of the gates, the bloc shifted into higher gear in sourcing Covid-19 vaccines and is on track to immunize its population faster than anticipated thanks to new supply pacts and increased production.
Following efforts to narrow the gap with the U.S. and Britain in a race to slow the coronavirus, the EU may be able to vaccinate 75% of its adult population by the end of August, about two months earlier than previously forecast, according to London-based research firm Airfinity Ltd.
The question now is whether member states will be able to massively ramp up vaccination and counter any pushback, mainly on the AstraZeneca Plc and University of Oxford shot, which some Europeans are so far refusing to accept.
"The onus in my opinion is on member states to prove that they can manage a rapidly accelerating roll out," said Jacob F. Kirkegaard, senior fellow at the Peterson Institute for International Economics. "Will they be ready? I hope so."
Vaccines are seen as the key to reviving stalled economies and curbing infections amid worries that new and more virulent variants could emerge. And for now, the EU's record remains poor. The U.K., which has Europe's highest death toll from the virus, has administered more than 27 doses per 100 people, according to Bloomberg's tracker. That far outpaces the 6 doses for the EU. The U.S. has climbed to almost 20 doses per 100, the data show.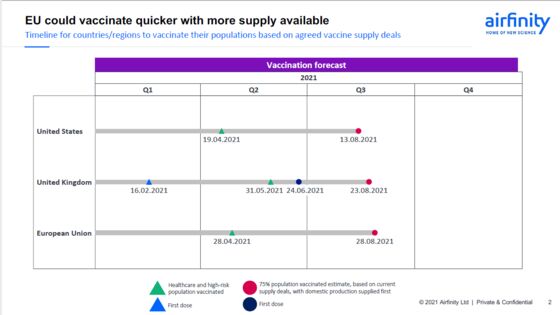 The EU's supply outlook has brightened recently, driven partly by deals with Pfizer Inc. and Moderna Inc. to secure hundreds of millions of additional doses. Already, supplies will probably double by the end of March from this month, and double again by the end of April, according to Kirkegaard, who cited projections from individual governments.
Astra on Tuesday said its forecast for vaccine deliveries to the bloc is in line with its contract with the European Commission, responding to a Reuters report on delays. The company is working on increasing productivity in its EU supply chain and using its global capability to deliver 180 million doses to the bloc in the second quarter, it said.
As supplies mount, countries are facing new pressures. In Germany, for instance, vaccination centers could soon be overwhelmed, creating a "traffic jam" unless authorities empower doctors to perform inoculations at their offices, according to the National Association of Statutory Health Insurance Physicians.
Officials in Brussels meanwhile warn it's not clear whether vaccinating three-quarters of the adult population will be enough to stop the pandemic, and see a long fight ahead. That's because mutations in the future could at least partially evade existing shots. Drugmakers have said they should be able to tweak their vaccines relatively quickly if needed.
"We need to urgently accelerate the authorization, production and distribution of vaccines, as well as vaccination," EU leaders will declare on Thursday, according to a draft of a joint communique seen by Bloomberg. "The epidemiological situation remains serious, and the new variants pose additional challenges."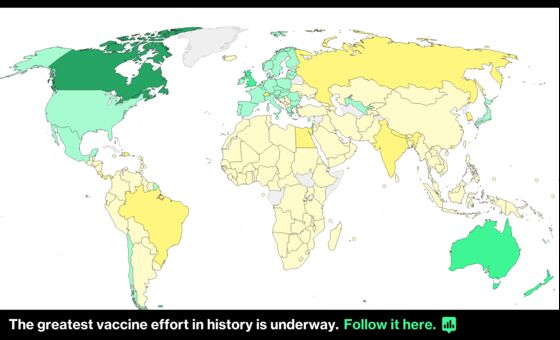 European officials have taken a series of steps in recent weeks to strengthen the bloc's virus strategy, while several of the region's biggest pharmaceutical companies have agreed to throw their production weight behind successful Covid shots. That's expected to speed up supplies on the continent this summer and beyond.
European Commission President Ursula von der Leyen told lawmakers earlier this month that she expects 300 million vaccine doses to be delivered to the bloc in the second quarter. That's a significant increase after an estimated 18 million doses in January, 33 million in February and 55 million in March.
The pressure has increased as Britain -- the first country in the western world to approve a Covid inoculation -- races ahead. Britain, which decided to delay second doses of the two-shot Pfizer and Astra vaccines to speed up protection for more people, may reach the three-quarters threshold with at least a single dose by late June, according to Airfinity. Hitting that level with two doses may take another two months, only slightly ahead of the EU's estimated timetable.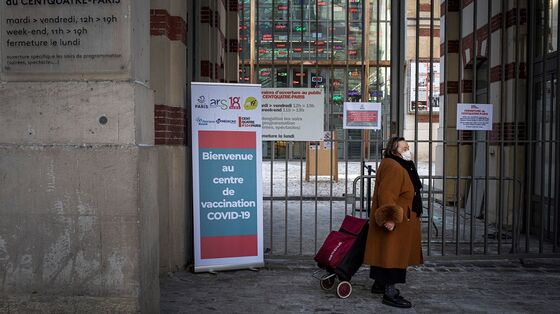 The EU's executive last week vowed to speed up efforts to secure and deliver vaccines that combat variants, while also asking member states for more money to back the drive. The commission has already engaged in an acrimonious supply dispute with Astra amid calls by several member states to get ahead of a possible need for booster shots to tackle new mutations.
This month, the EU finalized an accord with Pfizer and German partner BioNTech for 200 million more doses and announced a major new order with Moderna for 150 million more, also for this year. With the Moderna deal, Europe has secured access to as many as 2.6 billion doses, the Commission said Feb. 17.
"We will be able to provide vaccines not just to our citizens, but to our neighbors and partners as well," von der Leyen said last week.
The EU also has contracts with Johnson & Johnson, CureVac NV and Sanofi and GlaxoSmithKline Plc, but it's not clear when some of those deals will pay off.
Some large drugmakers are now adding their manufacturing muscle. Paris-based Sanofi is converting facilities in Germany and France to help produce doses of the BioNTech-Pfizer shot along with the Johnson & Johnson product. Switzerland's Novartis AG has also agreed to help manufacture the BioNTech-Pfizer vaccine.
Glaxo has partnered with CureVac on developing future Covid shots, while Bayer AG -- which has never before made vaccines -- will start manufacturing CureVac's existing shot, which is in late-stage trials, before the end of this year.
Higher production in Europe of the Pfizer and BioNTech shot is another key factor behind Airfinity's outlook. Still, as shipments mount, it will be critical for EU countries to get more of their citizens inoculated.
Vaccinating the entire population, as opposed to focusing on the elderly and health-care workers, "is a different logistical operation," Kirkegaard said. "It will require dramatic mobilization."