EU Sees Italy's Debt, Deficit Up Amid Muted Output Recovery
(Bloomberg) -- Go inside the global economy with Stephanie Flanders in her new podcast, Stephanomics. Subscribe via Pocket Cast or iTunes.
Italy's fiscal situation will worsen this year and next because a pickup in the economy won't be strong enough to stop its debt and deficit rising, the European Commission warned.
While economic "growth is likely to rebound moderately on the back of firming external demand and higher social transfers," Italy remains "the only euro-area member state where the snowball effect is projected to provide a debt-increasing contribution," the European Union executive said Tuesday in its spring economic forecasts. "The average interest rate paid on Italy's debt exceeds its nominal GDP growth."
The EU's estimate of 2.5 percent for Italy's deficit to gross domestic product this year is higher than the government's 2.4 percent target, raised last month from an original 2 percent. The projections for next year assume that hikes in indirect taxes such as VAT planned under current legislation won't kick in, the report said. Based on the forecasts, Italy could be the only euro nation above the 3 percent deficit level in 2020.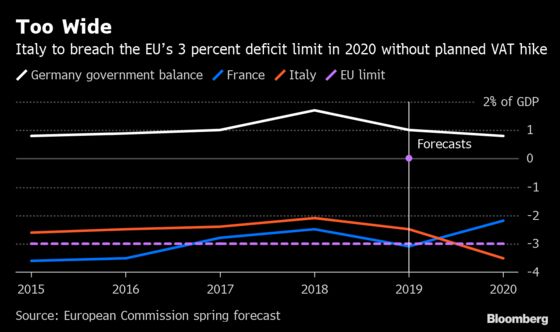 The Italian government has repeatedly vowed to find alternative measures to a VAT increase, that was legislated as a safeguard clause. "Possible activation of the VAT safeguard clause in 2020 and potential under-spending for the new measures would lead to a better fiscal outlook," the Commission said in its report.
| | | | |
| --- | --- | --- | --- |
| | 2018 (actual) | 2019 (forecast) | 2020 (forecast) |
| GDP | +0.9% | +0.1% | +0.7% |
| Deficit to GDP | 2.1% | 2.5% | 3.5% |
| Debt to GDP | 132.2% | 133.7% | 135.2% |
| Struct. deficit to GDP | 2.2% | 2.4% | 3.6% |
The country's structural deficit, which excludes one-time expenditures and the effects of the economic cycle and is a key figure for EU budget rules, is forecast to worsen by 0.2 percentage point in 2019 and a further 1.2 points next year, when the debt will exceed 135 percent of the economic output.
Italy is set to run a "sizable" structural deficit combined with a rising debt level, "suggesting that further fiscal adjustment is needed," the Commission said, without elaborating or mentioning a possible infringement procedure in coming months.
Still, the EU's Brussels-based executive arm stressed that after its clash with the populist administration in Rome over the 2019 budget law, Italy's position on sovereign bond markets improved.
"In March 2019, the spread between Italian and German 10-year sovereign bonds fell below 250 basis points and remained close to that level in April, significantly below the 320 basis points seen on several occasions in autumn," during the difficult talks on the budget, the report said. "This suggests that market participants have become more sanguine about Italy's budget issues -- investor demand for Italian bonds has been strong lately."
Speaking to reporters on the sidelines of a conference in Paris, Italian Finance Minister Giovanni Tria said that the EU projections are basically in line with those from the government's draft budget passed last month. He has repeatedly said the country will meet its EU budget commitments.
While neither set of estimates takes into account better-than-expected output data in the first quarter of 2019, the main divergence is on next year's deficit, as the Commission doesn't consider the VAT hike or equivalent corrective measures to keep finances under control, the minister said.
"In this sense, that forecast appears to be more of a political than an economic one," Tria said.