EU's Worst-Hit Corner in 2008 Shrugs Off Early Days of Virus
As the global financial crisis unfolded in 2008, economies in the Baltic region were among the worst-hit on the planet. This time around, they're outperforming -- at least during the early days of the Covid-19 pandemic.
While Italy, France and Spain on Thursday reported steep declines in first-quarter output, Lithuania's gross domestic product actually rose on an annual basis while Latvia only recorded a slight dip.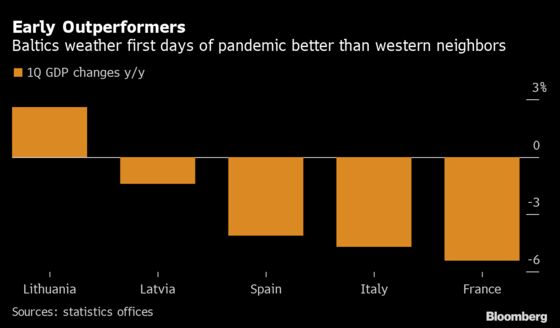 There will be no escape, of course, in the second quarter as the full impact of lockdowns that began in mid-March is felt. But for now, the Baltics are the leading lights in the euro area, which contracted 3.3% from a year earlier between January and March, and 3.8% from the previous three months.
"The Baltic region is still riding on a wave of momentum from last year," said Nerijus Maciulis, chief economist at Swebank in Vilnius. "Unlike in 2009, there's no overheating and no financial imbalances. Lessons were learned and there was adequate preparation for a crisis. It's quite likely the Baltic region may have a smaller contraction than the euro area this year."
The slump a decade ago in the Baltics was exacerbated by a rapid embrace of the austerity policies that went on to ravage countries like Greece. Latvia's economy shrank by almost a fifth over two years.
A repeat isn't in the offing, with spending cuts unlikely to come during the recession. After bumper growth in recent years, however, the next quarter will be painful.
"The contraction will enter double digits," said Zygimantas Mauricas, chief economist at Luminor Bank in Vilnius. "Even as the lockdown measures ease, the third-quarter recovery will be sluggish because of falling international trade, investment and rising unemployment."