EU's Free Trade Champions Challenge 'Protectionist Forces'
Sweden is mobilizing a group of eight European Union countries to fight the "protectionist tendencies" resurfacing in the bloc during the pandemic.
The group, which includes Germany and the Netherlands, is pushing for "open, free and fair trade" in opposition to those "trying to protect industries that have not done their homework," Swedish Trade Minister Anna Hallberg said in an interview, referring to "forces" she declined to identify.
The fallout from the pandemic has strengthened protectionist trends globally, with export restrictions on medical equipment, such as gloves and masks, threatening to slow the recovery. While President Joe Biden has brought optimism about a de-escalation of trade disputes with the U.S., worries remain over how the 27-member bloc will implement its newly identified target of "strategic autonomy" -- a concept promoted by French President Emmanuel Macron.
"We definitely see tendencies, also during the pandemic, that these protectionist forces have been getting a little more oxygen," Hallberg said. "Arguing that Europe should be self-sufficient, talk of reshoring. That kind of expressions."
The free-trade group, formed a year ago at a meeting of "like-minded" trade ministers in Stockholm, also includes the Czech Republic and two other Nordic EU members - Finland and Denmark. It has added Ireland and Estonia ahead of the bloc's trade strategy talks scheduled later this year.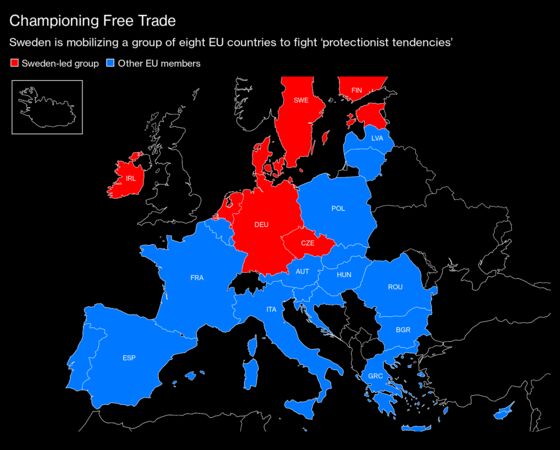 Hallberg sees it as her job to speak up and push the free trade agenda as Sweden is highly dependent on exports.
"If you start talking about setting tariffs to protect your domestic industry, we absolutely think that's the wrong way to go," she said.
The EU is working on a proposal for the Biden administration on a new trade relationship, including settling a longstanding aircraft dispute that has seen the allies impose tariffs on $11.5 billion of each other's exports, people familiar with the matter told Bloomberg last month. Hallberg said a new proposal has been submitted by the EU Commission to resolve the dispute.
"We need to end this protracted dispute on Airbus and Boeing," Hallberg said. "The Commission has presented a proposal for a temporary and reciprocal suspension of customs duties as a first step."
The Commission also intends to address the issue of tariffs on steel and aluminum "at the next possible opportunity," she said.