EU's Social Bonds Draw $275 Billion to Set Global Demand Record
(Bloomberg) -- The European Union's first offering of social bonds drew orders of more than 233 billion euros ($275 billion), likely to be the biggest ever for any debt deal.
The bloc's 17-billion-euro, two-part sale was nearly 14 times subscribed. The orderbooks easily topped the $120 billion of demand seen for CVS Health Corp.'s corporate offering in 2018 and Italy's previous European sovereign record of 108 billion euros, according to data compiled by Bloomberg.
The sale marks the arrival of a major new safe asset, with investors drawn to a AAA credit rating and the fastest-growing part of sustainable finance. The offering, also the EU's first joint debt since the bloc agreed a landmark pandemic recovery deal, is aimed at providing funding for a job support program.
"I was expecting a three-digit book but not quite this high," said Jan von Gerich, chief strategist at Nordea Bank Abp. "These bonds were clearly eagerly awaited, and these issues only strengthen the picture that there is a huge demand for bonds at the moment."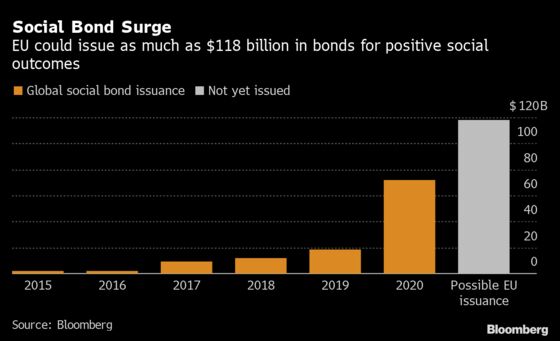 Social bonds are defined by funding for projects that help society, such as improving social welfare or serving disadvantaged populations. They are the "perfect financial response" to the shock that welfare systems experienced from the pandemic, according to a report by Maia Godemer, a research analyst for green and sustainable finance at BNEF.
The bloc raised 10 billion euros from the sale of 10-year debt, and another 7 billion euros of 20-year securities. Given the size, the EU is already nearly a fifth of the way to achieving its goal to finance its 100-billion-euro SURE program, a temporary measure designed to help governments keep workers in jobs. Italy will be the biggest beneficiary, receiving around 27 billion euros.
The 10-year offering was priced at three basis points over midswaps, while the 20-year security was at 14 basis points over midswaps. While comparisons for this new debt are hard to make, the 10-year was set nearly one basis point higher than implied market spreads for existing EU bonds.
"It's another grab for yield," James Athey, investment director at Aberdeen Standard Investments, said on Bloomberg TV. "You look at where it trades relative to Germany and you look at where it trades relative even to France, you would suggest this is high-quality paper with a yield pick-up against similarly-rated issuers in the region."
In yet another milestone, the deal helped bond sales across the region climb above 1.5 trillion euros in a year for the first time.
Analysts have said the issuance could help lift the euro, with any sign of deeper integration among member states a boon for markets. The common currency rose as much as 0.6% to $1.1841.
Demand for European debt has hit all-time highs this year. In the social bond space the EU dwarfed previous records, with the former biggest deal held by French agency CADES -- which refinances and pays off social security debt -- in a recent 5 billion euro 10-year offering.
The EU hired Barclays Plc, BNP Paribas SA, Deutsche Bank AG, Nomura and UniCredit SpA to oversee the sale.
The bloc aims to sell as many social bonds as issued globally so far. The market is rapidly expanding, with this deal taking sales up five-fold this year to around $90 billion.
"They could essentially be done with the SURE program now," said Piet Christiansen, chief strategist at Danske Bank A/S.