EU's Latest Bond Sale Racks Up Another $100 Billion Orderbook
(Bloomberg) -- The European Union returned to the bond market on Tuesday for a seven-year debt sale, pulling in another huge orderbook.
The nation racked up more than 85 billion euros ($100 billion) of orders for a 9 billion-euro offering of bonds maturing in 2028 via banks, with pricing set at 14 basis points below swaps. Analysts had expected a rush of orders from investors because the bonds are relatively scarce and the central bank is able to buy up to 50% of the EU's issuance, providing a guaranteed backstop.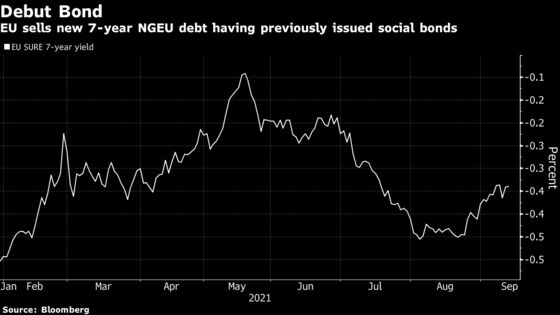 While the demand was slightly lower than seen for a similar five-year sale in June, the bloc's orderbooks have consistently been among the biggest in the region. The sale is the next stage of NextGenerationEU stimulus, and the EU will also start selling short-dated bills for the first time on Wednesday. 
"As the EU comes more regularly to the market, there is less of an incentive to overstate one's orders," said Antoine Bouvet, senior rates strategist at ING Groep NV, who had expected 10 billion euros of the social bonds to be sold. "The novelty has worn off now they're a regular issuer."
It's part of a program aiming to raise about $1 trillion of debt over five years to finance grants and loans to member states. Almost a third of the roughly 800 billion euros will be in green bonds, which the bloc will start to sell in October.
The bookrunners on the seven-year deal are Morgan Stanley, Goldman Sachs Group Inc., LBBW, NatWest Markets Plc and Societe Generale SA.
There are 9 borrowers selling debt on Tuesday, with a minimum issuance of 13.38 billion euros-equivalent expected across 11 tranches.
Blackstone-owned Spanish gaming firm Cirsa will hold investor calls today about a 400 million euro bond to repay and cancel borrowings of a revolving credit facility and partly redeem its 2023 dollar-denominated senior secured notes
Bupa Finance Plc has announced plans to sell an inaugural Restricted Tier 1 bond, the most subordinated type of insurance debt, just days after Just Group was inundated with orders for this type of transaction
Insurance companies have sold more green and other sustainable bonds year-to-date than during the whole of 2020
Chinese developer Evergrande hired Houlihan Lokey and Admiralty Harbour Capital as joint financial advisers to assess the firm's capital structure in what could be one of the country's largest-ever debt restructurings.
China's government is also assembling a group of accounting and legal experts to examine the finances of the company
There are at least eight issuers marketing dollar deals on Tuesday including green offerings from Japan's Norinchukin Bank and Guangzhou Metro Investment Finance HK Ltd. Hutchison Port Holdings and Hyundai Capital America are also seeking to price notes.
A handful of mandates were also announced Tuesday including potential U.S. currency deals from PT Bank Negara Indonesia and Industrial & Commercial Bank of China Ltd. 
Elsewhere, Indonesian high-yield dollar bonds are beating their regional peers as prospects for the economy improve after Covid-19 cases dropped to their lowest since May
Away from markets, a court in Jakarta is set to resume hearings Tuesday on a debt petition against flag carrier PT Garuda Indonesia that could set the stage for a debt restructuring
The U.S. high-grade primary market picked up where it left off last week with another 13 borrowers pricing about $19 billion in notes.
Gap Inc. raised $1.5 billion in a junk-bond sale Monday to help it buy back expensive debt raised earlier in the pandemic last year
OxyContin maker Purdue Pharma LP won court approval to spend as much as $6.8 million building out the trusts underpinning its bankruptcy plan despite an ongoing appeal of the deal
Cryptocurrency exchange Coinbase Global Inc. is seeking to raise $1.5 billion in its first junk-bond offering
Belize launched an offer to buy back its so-called "super bonds" due 2034, according to a Ministry of Finance statement
For deal updates, click here for the New Issue Monitor
For more, click here for the Credit Daybook Americas