U.K. Warns EU of Reputation Damage If It Reneges on Vaccines
The European Union must honor its vaccine contracts even as the sluggish rollout puts pressure on governments there, Ben Wallace, the U.K. defense secretary, told Sky News on Sunday.
"The commission knows deep down that this would be counterproductive," Wallace said. "They're under tremendous political pressure at the European Commission. It would damage the EU's relations globally if they should renege on these contracts."
The U.K. has reached the milestone of inoculating half of its adult population, while fewer than one in 10 in the EU have received at least one shot. The discrepancy has stoked concern about supply and vaccine nationalism.
Mairead McGuinness, the bloc's commissioner for financial services, told the BBC's Andrew Marr program that no decisions have been made on the question of stopping vaccine exports to the U.K, and that the EU's priority is addressing its citizens' concerns.
"Both the EU and U.K. have contracts with AstraZeneca," McGuinness said. "My understanding is that the company is supplying the U.K., but not the European Union."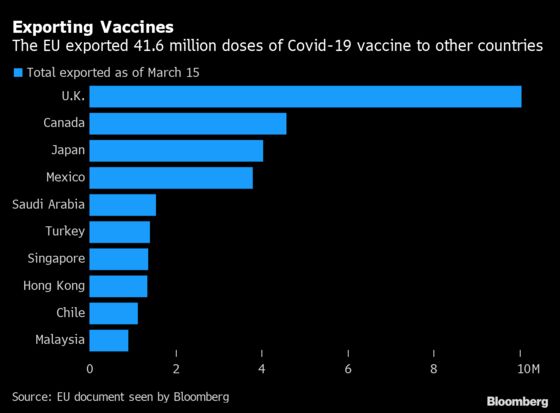 Wallace also struck a cautious tone on the prospect of Britons being able to go on foreign holidays this summer, saying the U.K. government is wary of importing new variants of coronavirus. He also noted rising cases of the virus in some European countries.
"It's highly unlikely we'll be able to go on foreign holidays this side of May," Wallace said. "I'm not going to second guess what happens after June."