EU Plans to Sell Green and Social Bonds for Recovery Fund
(Bloomberg) -- The European Union is planning to sell green and social bonds to finance some of its 750 billion-euro ($887 billion) recovery fund, according to a person familiar with the matter.
Officials are working on a set of guidelines that would introduce criteria for green bonds, though it's unlikely the legislative proposal would be ready by the end of the year, said the person, who works at the European Commission and asked not to be identified because the information isn't public.
While green bond issuance has been widely expected -- with EU officials already promising to allocate almost a third of their stimulus package to climate-friendly projects -- the EU has yet to officially confirm that it will sell this sort of debt.
"This will change things. It will actually suck in more investors and that will actually mean more demand," said Sean Kidney, chief executive officer of the Climate Bonds Initiative. "That's the spiral we're looking for."
The move would likely make the EU the biggest green bond issuer and the main provider of a safe asset that's linked to environmental goals. According to estimates by S&P Global Ratings, the EU's total green bond sales could reach 225 billion euros. That's about the same amount of all green bonds issued last year, according to data compiled by Bloomberg.
The process of bringing an EU green bond to market is still in its infancy. There's still no uniform standard within the EU for what counts as a green bond and it's unclear exactly how much would be sold or when.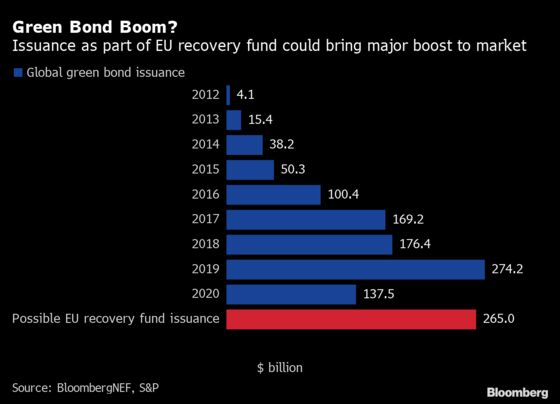 Debuting more than a decade ago, the green bond market has exploded over the past few years with investors demanding more sustainable investment options. Global sales fell in the first half of this year as issuers opted for social and sustainability bonds to help combat the fallout from the pandemic.
Within the continent, France is the largest issuer and Germany will likely create around 11 billion euros worth of green bonds this year, the country's deputy finance minister said Monday. Sweden is meeting investors this week for a debut green bond.
The EU's wider stimulus plans run through 2024 and the bond sales will likely span several years, said Jonas Rooze, head of sustainability research at BNEF.
"It's a positive development in terms of maturity, depth and liquidity," said Mitch Reznick, head of sustainable fixed income at Hermes Fund Managers Ltd. "This is structural, it's real, it's not going back and that creates confidence."