EU Chief Says She Was Responsible for Gaffe Over Vaccine Exports
(Bloomberg) -- President Ursula von der Leyen told a group of European lawmakers that she is responsible for the European Commission's bungled handling of export controls on Covid-19 vaccines.
During a discussion of the problems with MEPs from the European People's Party, von der Leyen said she takes responsibility for all the commission's decisions, according to a person who was present at the private meeting.
Von der Leyen has faced a barrage of criticism since making a humiliating U-turn over proposed controls on shipments from the EU into Northern Ireland on Friday night. The measure, which was rushed out under pressure to fix the bloc's stumbling vaccination program, undermined the EU's commitment to keep the Irish border open which von der Leyen herself had emphasized during Brexit negotiations.
Her spokesman, Eric Mamer, added to the tensions among senior officials in Brussels when he pointed the finger at Trade Commissioner Valdis Dombrovskis on Monday.
Von der Leyen has been trying to lower the temperature in Brussels after a turbulent week and earlier told a broader group of lawmakers that the EU should avoid being drawn into lengthy litigation with drugmakers, despite AstraZeneca Plc cutting deliveries.
The absolute priority is to get shots delivered to Europeans and a legal battle would be counterproductive, she said, according to another person familiar with the afternoon briefing.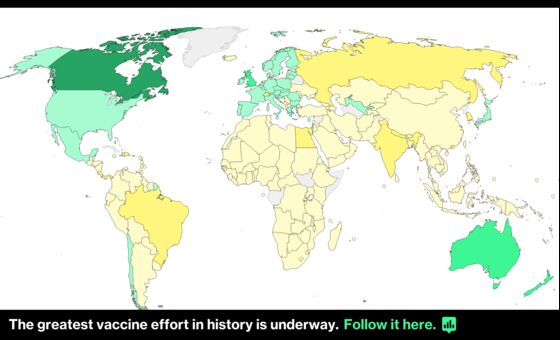 Von der Leyen said that other measures such as compulsory licensing of vaccines would be incredibly complex to implement and risk disrupting supplies at a time when pharma companies are racing to adapt their shots to coronavirus mutations.
She also warned lawmakers to be ready for variants of the disease that do not respond to existing shots.
The EU has seen just 2.9 doses administered per 100 people, far behind the 14.7 in the U.K. and 10 in the U.S. The 27-nation bloc established an export-authorization system four days ago amid calls to ensure adequate domestic supply.
Von der Leyen told EU lawmakers that the export authorizations introduced on Saturday should be sufficient for now to ensure adequate supplies. She added that deliveries of Johnson & Johnson's yet-to-be-approved shot are expected in early April, no matter how quickly the EU's drugs regulator authorizes the shot.
Earlier on Tuesday, von der Leyen's spokesman, Mamer, said the EU expects 300 million doses to be delivered to the bloc during the second quarter.
Chancellor Angela Merkel, who's promised to get shots into all Germans by September, said she's ready to consider using Russia's Sputnik V vaccine as she tries to calm concerns over the inoculation program.