Summer Travel Hopes Revive After EU Backs Vaccine Certificates
(Bloomberg) -- Europeans and some foreign visitors can firm up their summer plans in the region, after European Union negotiators agreed to introduce vaccine certificates that will allow quarantine-free travel within Europe, handing the pummeled tourist industry an important chance to salvage the season.
"Citizens will be able to travel safely. Businesses will be able to benefit from their spending, and transport will be able to operate," European Justice Commissioner Didier Reynders said at a press conference Friday. "Today we are one step closer to making this happen."
The EU late Thursday backed the so-called Covid-19 certificates, which will be issued free of charge in digital or paper format, and certify their holders have been inoculated against the coronavirus, recovered from the illness or tested negative. All EU member states will accept visitors who hold the passes from July 1.
The move to ease travel within the EU follows a deal between member states this week to also allow tourists from outside the bloc to visit if they've been fully vaccinated at least 14 days before their arrival.
There are also plans for a "white list" of non-EU countries with low infection rates, from which travelers will be exempt from the vaccination requirement.
However, talks among the bloc's member states about which nations should be included have stalled, and its publication may be postponed for two weeks, according to three diplomats familiar with the matter. As a result, only fully vaccinated Americans and British residents would be welcomed for the time being.
One of the diplomats said that several member states, including Germany, were skeptical about adding Japan and the U.K. to the white list because they are concerned about the emergence of new Covid-19 variants. A decision is now expected in two weeks with the next update, the person added.
Spain, however, has already pushed ahead and added the U.K. and Japan to a list of countries not affected by travel curbs, according to an order published on the state's official gazette. Visitors coming from the two countries will be allowed to enter Spain without any restriction from next Monday.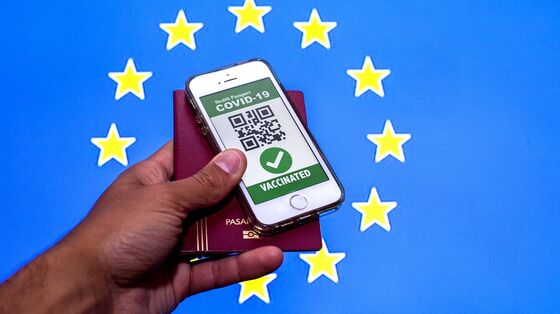 The new rules, agreed between representatives of the European Parliament and the bloc's 27 governments on Thursday, are still subject to a formal approval process before they are enacted into law, applying across the EU at the end of June.
All 27 nations will be required to accept vaccinations with shots approved by the bloc's drugs regulator. They are also allowed to accept those cleared for use by the World Health Organization.
With the bulk of the population in the U.S., the U.K., and the EU due to be vaccinated by July, the new rules will allow for a gradual rise in travel, handing a boost to tourism-dependent economies such as Croatia, Cyprus, Spain and Portugal.
Individual countries such as Greece already accept visitors able to offer vaccination proof or a negative test, without asking them to quarantine. And Spain also announced that all vaccinated travelers would be allowed to visit the nation from June 7, including those coming from countries for which restrictions are still in place.
The new EU-wide rules will replace national vaccination certificates. Around 18 countries, including Croatia, Greece and Germany, have already successfully tested the common "gateway" system, which will allow certificates to be verified in different countries.
EU officials also said they were in talks with non-EU countries and international organizations, including the WHO and the International Air Transport Association, to ensure interoperability. However, the EU would first need to reach a legal adequacy decision with any third country before their certificates could be used in Europe, the officials said.
A gauge of European travel and leisure stocks has gained 13.5% this year, amid expectations that an accelerating vaccination rollout will boost airlines and hotels following an unprecedented slump in 2020.