ETFs Use Anything for Attention to Crack Tough Market
(Bloomberg) -- Count this as the year of thematic ETFs, as firms brought out funds based on outer space, pet care, music streaming, and just about anything else you can think of in an attempt to attract investors in an increasingly competitive environment.
With plain vanilla exchange-traded funds based on major indexes already saturating the market, even large issuers are now launching thematic products, with strategies that favor quirky, niche categories like self-driving cars, artificial intelligence or pet care. More of these products were launched in 2018 than in any other year, according to Bloomberg Intelligence. Their staying power, however, is up for debate, as certain narrowly focused products bled assets or folded.
State Street Corp. launched the first outer space and deep sea exploration-related ETF in October. ProShares Advisors created a fund tracking companies that earn at least half their revenue from pet-related businesses, using the ticker PAWZ. And Goldman Sachs Group Inc. is planning a number of thematic funds, including some focused on a manufacturing revolution and data-driven world, according to regulatory filings.
Thematic funds sometimes struggle once they come to market. An ETF tracking the spirits industry, Spirited Funds/ETFMG Whiskey & Spirits ETF, ticker WSKY, liquidated in June after two years on the market. The Toronto-based Evolve Blockchain ETF is languishing with only $727,000 in assets.
"Sometimes as quickly as the money comes into those products, it leaves as quickly when the theme runs its time or is no longer relevant," said Steve Dunn, head of ETFs at Aberdeen Standard Investments. "Testing that lightning-in-a-bottle -- that's a hard proposition."
The funds charge much higher fees than those offering simple broad market exposure. The average cost for a thematic ETF is about $5.80 for every $1,000 invested, according to Bloomberg Intelligence, compared with $4.70 for all ETFs. The largest fund, the SPDR S&P 500 ETF Trust, ticker SPY, charges 95 cents for every $1,000 invested. Assets in thematic ETFs total $19 billion, according to Bloomberg Intelligence, out of almost $5 trillion for the funds globally.
Marijuana ETFs were another thematic category that drew attention in 2018. Only one exists in the U.S., ETFMG Alternative Harvest ETF, ticker MJ, and it's attracted $600 million in assets this year after converting its focus from tracking Latin American real estate on Dec. 26, 2017. But the fund's price has fallen 22 percent this year and is off 41 percent from its September high.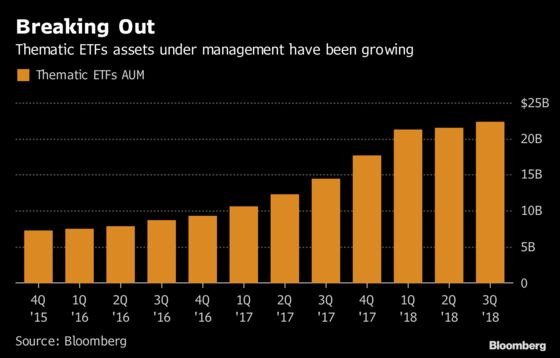 At least one ETF is betting on star power to sell funds. Music legend Quincy Jones licensed his name to a fund focused on music streaming, but the Quincy Jones Streaming Music, Media and Entertainment ETF is still waiting for approval. If the fund ever launches it could move ETF marketing in a whole new direction, said Eric Balchunas, an ETF analyst at Bloomberg Intelligence.
"It could set the precedent for celebrities, brand names, proper nouns," Balchunas said. "It could look a bit like the retail industry where celebrities endorse products."
Issuers are increasingly looking for new ways to put out trendy products, even if the funds are derivatives of something that already exists, said Mike Cronan, president of marketing services at Exchange Traded Concepts, an ETF advisory firm that helps companies launch custom funds.
"A lot of thematic ETFs tend to be copy-cat a little bit," he said. "Who's doing well? What's come out? Maybe a little derivative of it. So we hear a lot about different tech themes, AI, quantum computing, cloud computing."
These trends are likely to continue in 2019, Balchunas said, with even some smaller issuers debuting out-of-the ordinary funds. Defiance ETFs, for example, filed a prospectus for robotics and cloud computing funds, among others.
A fund that tracks the lowest-paid chief executive officers is getting some buzz, Balchunas said. It's loosely based on the Global X Founder-Run Companies ETF, ticker BOSS, which tracks the performance of founder-run companies. Or, if Congress manages to pass an infrastructure spending bill, an issuer might put together a product based on that.
"It's a theme and it crosses a few sectors -- industrials, energy," Balchunas said. "That could do well."
Dunn agreed that fund firms will keep bringing out thematic ETFs in the search for the next big hit. The challenge will be keeping them relevant and exciting.
"You'll also see a lot more of them launched and a lot more of them closed because of timing or for whatever reasons that theme didn't resonate," he said.