Danske CEO Says Client Defections Are Unlikely to Hurt Profits
(Bloomberg) -- Danske Bank A/S isn't expecting to see financial losses as a result of the client flight triggered by its money laundering scandal, according to its interim chief executive officer, Jesper Nielsen.
The bank said on Friday that it lost about 11,000 retail customers in Denmark, net, last year. It also pointed to the "negative impact" of the laundering case on its corporate clients in Denmark and, to a lesser degree, in Sweden.
In an interview in Copenhagen, Nielsen said he doesn't "anticipate an abnormal outflow" of customers going forward.
"We've still managed to increase our lending book on personal customers in Denmark, so right now there's no financial implication of that undercurrent of customers leaving the bank," he said.
"Obviously, we're mitigating all we can, working as much as possible, to limit the number. But I don't see this as something that will have an overall financial impact in 2019."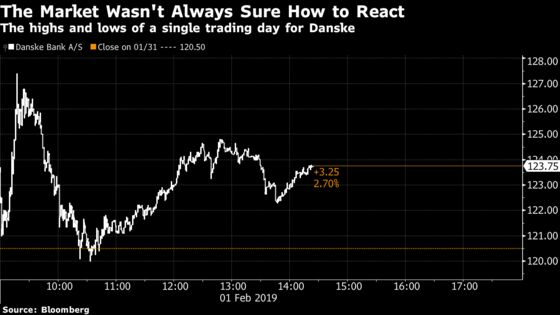 Danske's fourth-quarter results brought relief to investors who had grown accustomed to a seemingly never-ending stream of bad news from the bank and its $230 billion Estonian dirty money saga. Its shares rose almost 6 percent at one point during the day, and were up about 2 percent at 2 p.m. in Copenhagen.
The bank failed to live up to analyst estimates for how much money it expects to make this year, but delivered fourth-quarter results that didn't disappoint the market. Danske won't buy back shares in 2019, though management committed to its dividend policy.
"There are still a lot of uncertainties when looking into the future with the potential fines being a clear No. 1, but the core business of Danske Bank is doing well," Mikkel Emil Jensen of Sydbank A/S said by phone.
Read: Danske Bank 2019 Net Income Forecast Misses Estimates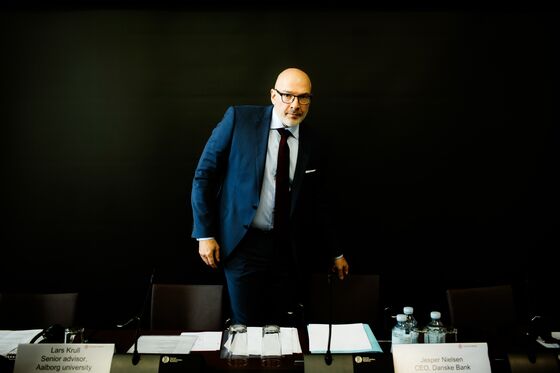 The laundering scandal, in which it's alleged that billions of dollars in suspicious funds flowed from the former Soviet Union and into the West through a tiny Estonian branch until as recently as 2015, wiped about 47 percent off Danske's market value last year. Even after Friday's share-price gain, Danske remains among the worst performers among its Nordic peers so far in 2019.
After issuing a profit warning at the end of 2018, the bank said it plans to invest 2 billion kroner ($307 million) over three years in further compliance measures that it also hopes will persuade customers to stay.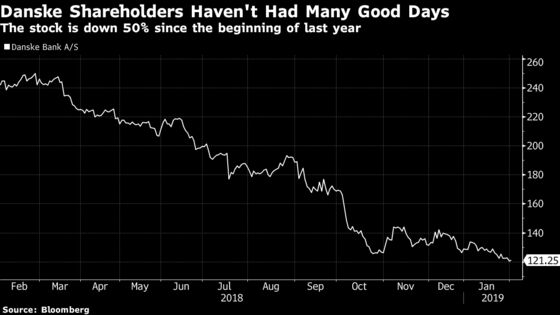 The Estonian laundering case has made Danske the target of numerous criminal investigations, including in the U.S., and investors are bracing for hefty fines. Danske said on Friday it still can't "reliably estimate the timing or amount of any potential settlement or fines, which could be material."
"As long as the uncertainty, not just regarding earnings but also in relation to the laundering case, is as big as it is, the shares will stay under pressure," said Per Hansen, an investment economist at Nordnet in Copenhagen.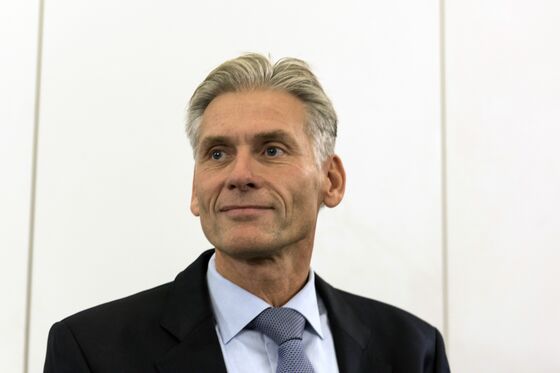 Nielsen, who has been acting as interim CEO since Thomas Borgen was relieved of his duties in October, said Danske still faces a "huge task" if it's to regain the trust of its clients and investors following the Estonian scandal. Speaking at a press conference in the Danish capital, Nielsen said Danske expects more clients to leave the bank because of the case.
Aside from criminal investigations, Danske is also the target of class action suits. The bank said it intends to defend itself against these claims, but noted that the "timing of completion of the lawsuit is uncertain, as is the outcome."
The case has created uncertainty around Danske's core banking operations and how well it will be able to protect these from the fallout of the scandal. For now, analysts indicated that the damage done to the underlying business looks limited.
Read: Danske CEO Says Client Outflows So Far Aren't Affecting Results
The Estonian scandal has already ended the careers of several of its top managers and the board chairman. Borgen, the former CEO, will continue to draw a salary until September, by which time he will have earned 15 million kroner in 2019, Danske said. He was paid 12.7 million kroner in 2018, Danske said.
Read: Danske's Profit Warning Shifts Focus Back to Laundering Scandal